What are the bathrooms like in the rooms at Skylofts at MGM Grand?
Answers from Our Experts (1)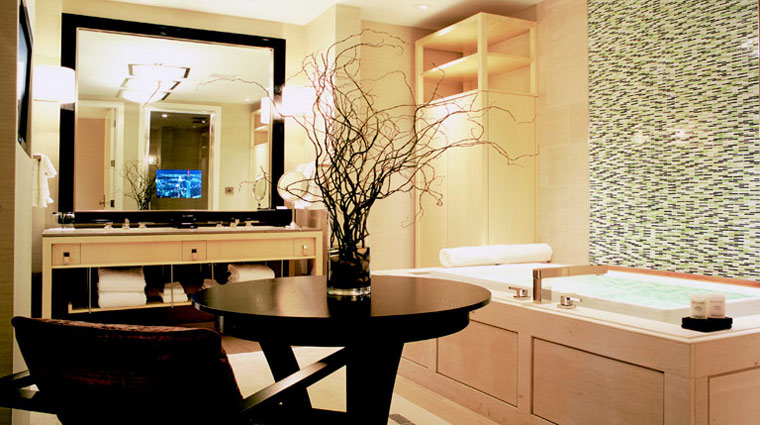 © 2011 MGM Resorts International
The bathrooms at Skylofts at MGM Grand are among the best amenities at the Forbes Travel Guide Five-Star hotel, and one of the reasons we always look forward to staying there. The full bathrooms are more like personal spas with incredible champagne infinity tubs and showers.

All lofts have at least one full-size bathroom on the second floor (the number of full baths corresponds with the number of bedrooms) and a half bath on the first floor. Full bathrooms feature limestone floors, smooth marble countertops and an L-shaped shower with a giant rain-style showerhead. There's also a towel warmer and four jets on the sides of the shower, so you have the option of turning it into a steam room.

Our favorite feature of the bathroom is the whirlpool infinity tub with champagne-style bubbles. When you climb in the tub, water flows over the sides and then rises back to the top, with fine bubbles emerging from the jets. The bath changes colors depending on the mood you want to set, and a flat-screen Sony television built into the fogless mirror lets you keep up with the news or your favorite shows while you relax.

After a long day, you can pretty much order up the bath of your dreams. Ask your personal butler to draw you a green tea soaking bath with mint-infused chamomile tea and lemon ginger tea cookies, or try the lemongrass sage soaking bath accompanied by assorted chocolates and cranberry hibiscus tea. Heaven.

If you're looking for a little romance, the luxury hotel's "romance bath" includes rose petals sprinkled on the bed, massage oil, chocolate-dipped strawberries, a chilled bottle of champagne, romantic music and your choice of a green tea, lemongrass sage or ocean-scented soaking bath.