What is the waiting area like at The Spa at Encore Las Vegas?
Answers from Our Experts (1)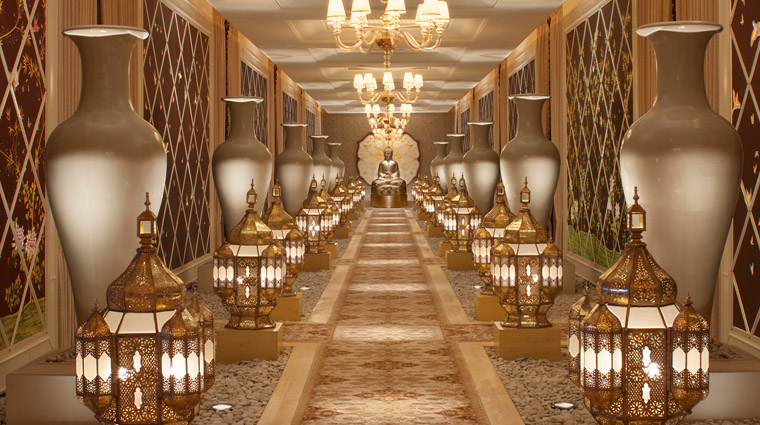 ©WynnResortsHoldingsLLC
Before you get to the actual waiting area at The Spa at Encore Las Vegas, take a few minutes to soak in the stunning check-in lobby. Overhead, thick, vaulted crossbeams with backlit panels give the space an airy feel, despite its hidden location off the casino floor. The sumptuous room is bathed in ivory and gold, from the plush couches and claw-footed chairs to the ornate Moroccan lamps glowing atop low-to-the-ground pedestals. More intimate lighting comes from a smattering of small chandeliers that dangle low above the seating areas. In the center of the room, surrounded by white orchids, sits a gigantic globe made of tan onyx. No sooner will you be able to take in the entire splendor than you'll be whisked away to a smaller, more intimate — but equally lavish — waiting room. The real waiting area has a white marble wall inset with a flat-screen TV. Beneath it, a long rectangular fireplace stretches from one side of the wall to the other to provide some coziness. Two built-in, backlit bookcases flank the wall, with all-white books, statues and vases artfully arranged on the shelves. On an adjacent wall, horizontal light wood panels alternate with thin gold strips to add warmth. Settle into one of the brown velvet chairs with a bottle of water or some citrus water from the circular table in the middle of the room, and just relax until an attendant comes to escort you to the locker room.