What are five things I should know about The Beverly Hilton?
Answers from Our Experts (2)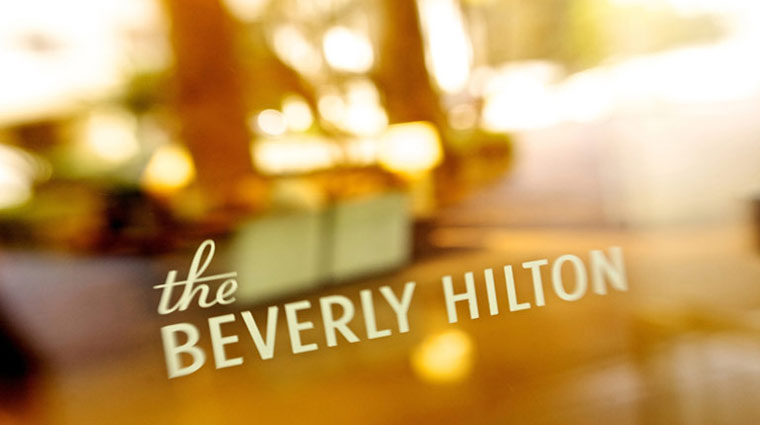 © Beverly Hills Hilton
Before you book your stay at The Beverly Hilton, here are five things you should know about the Four-Star Beverly Hills hotel:

1) The hotel's midcentury modern exterior gives it a Mad Men-esque vibe. The white Y-shaped building is a classic steel structure that sticks out from the rest of its more contemporary neighbors. Inside, you'll find Old Hollywood décor (black-and-white vintage photos of starlets like Marilyn Monroe and Judy Garland hang on the walls) mixed in with modern details, like the floor-to-ceiling lobby mural called "Studies of Water" by Nancy Lorenz that's filled with undulating gold waves.

2) It's a little worn around the edges. In the rooms, you'll find some scratched-up furniture and minor things like that, which might come as a surprise for a Four-Star hotel in Beverly Hills. However, you don't stay here for the room — you stay for people you might bump into outside your room. Which brings us to our next point …

3) The Beverly Hilton is celeb central. The hotel hosts the Oscars luncheon and the Golden Globes each year. Celebrities regularly visit the hotel for other reasons, too, whether it is to attend a charity event or to get dolled up in the salon. You could run into anyone from Brad Pitt to Joan Collins during a stay at the star-studded hotel.

4) The hotel has the largest outdoor heated hotel pool in Beverly Hills. It runs from three to 10 feet deep. Even if you don't want to swim, the pool scene is hopping — especially in the summer, when it hosts free "dive-in movies" twice a week.

5) Valet and self-parking cost the same. You'll have to fork over $36 either way, so leave your car to the valet when you pull up to the hotel. Plus, if you choose valet service, you'll get a complimentary bottle of water in your vehicle when you take it out for some sightseeing.
The five things you should know about The Beverly Hilton are:

1. Ownership: Conrad Hilton opened the Welton Becket-designed Beverly Hilton hotel as a showpiece in 1955. It's now owned by Beny Alagem and Oasis West Realty LLC. Alagem purchased from then owner-entertainer Merv Griffin in 2003, immediately restoring it to its Golden Hollywood era with contemporary details.

2. Iconic: It's the place to see and be seen. The Beverly Hilton has housed many red carept awards shows, charity benefits, and entertainment and motion picture industry events, and is perhaps best known as the home of the annual Golden Globe Awards.

3. Accommodations: The hotel accommodates guests within 569 rooms inclusive of 101 suites (16 of which are Penthouse accommodations, which have the ability to connect and panoramic views from the terraces located on the private eighth floor).

4. Location: It's conveniently located, which provides ease and accessibility whether on foot or by car to the expressways, Rodeo Drive, Century City, Hollywood, downtown, the airport, studios and the beaches.

5. The pool area: The pool level is composed of a wealth of health and wellness activities — from the Olympic-size Aqua Star Pool, Aqua Star Spa, Bellezza Salon and Pre-Cor Fitness facility.