What are rooms like at The Beverly Hilton?
Answers from Our Experts (1)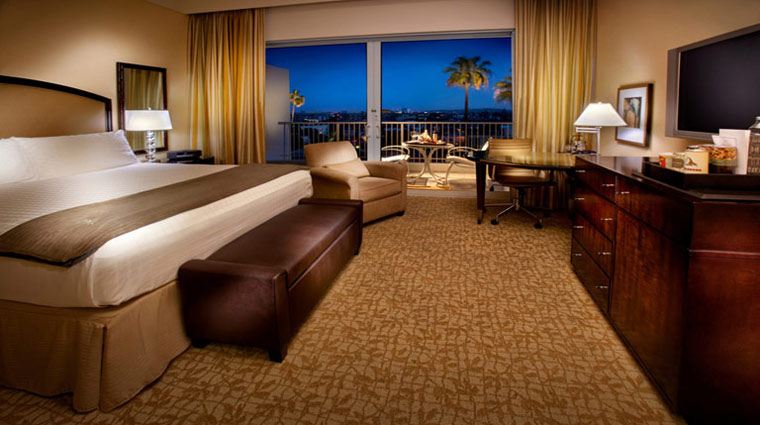 © Beverly Hills Hilton
The Beverly Hilton offers comfortable, spacious rooms with all the amenities you'll need. When you enter the warm standard room at The Beverly Hilton, you step on tan leaf-patterned carpeting and see texturized tan-yellow wallpaper and white crown molding lining the bedroom. The bed has an upholstered beige headboard that's flanked by two dark wood side tables. Each has a beaded lamp on top and a mirror behind it. On one table is a Bose Wave Music System radio/CD player that comes with a remote control; on the other is a cordless phone. At the foot of the bed is a chocolate-brown chaise lounge, whose seat comes up to reveal some extra pillows. Across from the chaise lounge is a dark brown credenza — we noticed some scuff marks on it and on some of the other slightly worn wood furniture — that holds a tray of for-pay extras like Pringles chips and some chocolates from Le Chateau (the chocolate and wine shop near the lobby); and in case you forgot yours at home, the tray also holds a bottle of skincare-guru-to-the-stars Sonya Dakar's facial cleanser and sunscreen. Above the credenza is a 42-inch HDTV flat-screen silver LG TV. In the corner of the room is an oval-shaped work desk that swivels and a tan ergonomic chair. There's a desk lamp with a moveable arm, a phone and a silver ice bucket on top of the desk, as well as a handy control panel for easy plug-ins and Internet hookup. Behind the desk, cream, orange and olive striped drapes, as well as a layer of sheer curtains, frame a set of sliding doors that lead out to the terrace. There, a rattan mat, two white mesh chairs and a small round glass-topped table are available so you can look out over the hotel's circular drive (look past the unsightly roof of a nearby building for those in the Wilshire Tower) and out at the city.

A frosted glass panel on the wall separates the bathroom and bedroom. (You can't see everything, but you can spy silhouettes.) A large mirrored sliding door leads into the spacious bathroom, which is covered in tan marble tile with a black marble-top sink. Bathrooms in the in Wilshire Tower and Cabana rooms have 13-inch silver Sony flat-screen TV built into the mirror. A frosted glass door hides the toilet, while another opens up to a tan-tiled Kohler rainhead shower with Peter Thomas Roth bath products.