What are the bathrooms like in the rooms at The Beverly Hilton?
Answers from Our Experts (1)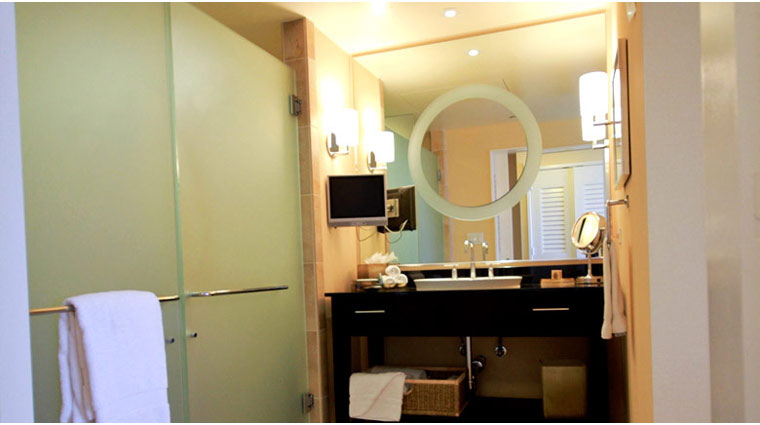 © The Five Star Travel Corporation
Step into a bathroom in a standard room at The Beverly Hilton and you'll find it to be pretty spacious. A large mirrored sliding door leads into the space, which is covered in tan marble tile. The black marble-top sink with Kohler fixtures rests against a mirrored wall with a porthole-shape outline etched in the middle. On the sink you'll find all the essentials to get you ready to hang with the celebrities in the Four-Star Beverly Hills hotel: a light-up makeup mirror, Peter Thomas Roth bath products, a tray with washcloths and a metal container with Q-tips and cotton balls. There's also a 13-inch silver Sony flat-screen TV for those in Wilshire Tower and Cabana rooms. Below the sink is a rattan basket with extra towels. Elsewhere in the bathroom, there are two frosted glass doors: One leads to the toilet and the other to a tan-tiled Kohler rainhead shower with Peter Thomas Roth shampoo, conditioner and soap. There's a frosted glass panel on the wall that separates the bathroom and bedroom. While the opaque glass offers some privacy, it's not 100 percent.