What are five things I should know about The Peninsula Beverly Hills?
Answers from Our Experts (2)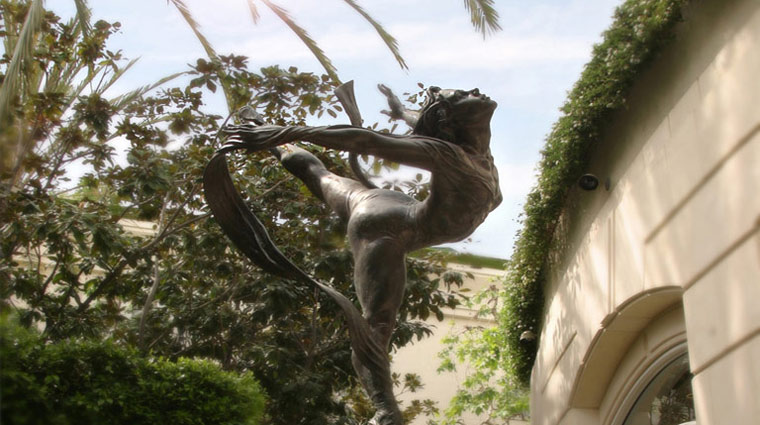 © ThePeninsulaBeverlyHills/VFMLeonardoInc
If you're heading to The Peninsula Beverly Hills for a vacation or business trip, you're in for a treat. Here are the five things we think you need to know before you go:

1. The location is great. The Peninsula Beverly Hills' prime spot means you'll have everything you need at your fingertips. You really don't need to leave the hotel, but if you would like to shop, check out great restaurants or just grab a cup of coffee, you can find it all nearby. A Starbucks is conveniently located a block away, Century City mall is about six blocks away and so is Neiman Marcus, Barneys New York and other luxury shops. You're just a quick walk to the famous Rodeo Drive, and a cab ride away from downtown L.A. and Hollywood.

2. The hotel is classic. The Peninsula Beverly Hills emanates a regal and sophisticated style. This Five-Star hotel isn't looking to be trendy, but if you want a refined experience and welcoming staff, this is the place for you. You'll get comfort, luxury, personalized service and a friendly staff all rolled into one.

3. If you're looking for privacy, you can find it here. The villas, located in separate detached buildings in the hotel's garden, make you feel worlds away from busy Wilshire Boulevard. They sit on beautiful grounds with winding pathways that lead to and from the hotel and waterfalls and flowers sprinkled throughout. The villas are perfect for honeymooners, celebrities who want to get out of the public eye, families who want privacy or even for a group of girlfriends looking for some time to catch up.

4. The personalized service at The Peninsula Beverly Hills is top-notch. You'll find that certain features in your room have been customized just for you. From the pillowcases with your initial to the welcome amenities, the staff will go out of its way to make you feel special. If you're a regular guest, it'll keep track of what you like and don't like so on your next visit it can be even more thoughtful.

5. The hotel is family-friendly. The Peninsula Beverly Hills is a great place for parents and kids. The rooftop pool is always a hit with children, and they'll like the special attention they receive in restaurants and from the staff. We've heard that if you happen to leave your teddy bear or other stuffed animal at the hotel, the staff here will send it back to you with a letter and photos about what your friend has been up to in Los Angeles. Now that's personalized service.

Here are the five things we think you should know about The Peninsula Beverly Hills:

1. The Peninsula Beverly Hills has been a Forbes Travel Guide Five-Star hotel for 19 consecutive years.

2. The Peninsula Beverly Hills' unique 24-hour check-in policy means that the hotel offers early check-in and late check-out.

3. The Peninsula has a return-visitor rate of 70 percent, which is remarkably high for a hotel.

4. All guests enjoy complimentary limousine service throughout Beverly Hills and Century City in the hotel's Rolls-Royce Ghost, based on availability.

5. The Peninsula Beverly Hills has a full-time staff of airport concierges at LAX who ease guests' arrivals and departures.