What are the best amenities at The Peninsula Beverly Hills Spa?
Answers from Our Experts (1)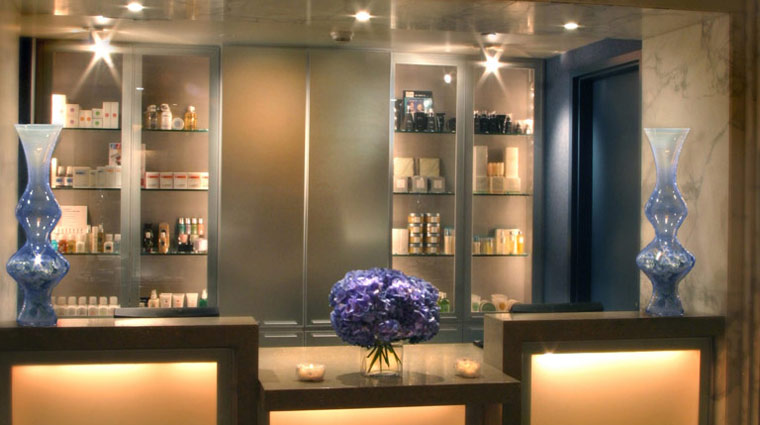 © ThePeninsulaBeverlyHills/VFMLeonardoInc
The Peninsula Beverly Hills Spa offers true luxury, with details and extras we love. Here are the best amenities that you'll find at the Forbes Travel Guide Four-Star spa.

1. Complimentary tea, water and healthy snacks. Whether you're zoning out in the relaxation room, stowing your stuff in the locker room or working out in the gym, you'll find a variety of snacks and beverages to enjoy. Munch on fresh fruit, chocolates, seasonal mini muffins or an assortment of nuts and protein bars to go along with iced or hot tea, bottled or ice water or fruit-infused water (summers only).

2. The eucalyptus-infused steam room. Both men and women will find these refreshing steam rooms in the locker rooms. Be sure to sit in here for a few minutes before or after your treatment to loosen any tight muscles — you won't be disappointed. The room is calming and the eucalyptus relaxes and revives you.

3. The locker room amenities. You won't need to bring anything along with you to the Beverly Hills spa. Anything you need will be stocked in the locker room — there's shampoo, conditioner and body wash in the showers and everything from shower caps and hairspray to razors and nail files in the vanity areas. The staff has thought of everything, making it easy to hit the spa before heading out to dinner or a meeting.

4. The bathrobe and slippers. The white bathrobe at The Peninsula Beverly Hills Spa is thick and cozy — thicker than the one you'll find in the hotel rooms. The black sandals have traction on the bottom so you won't slip walking around the showers or locker room You'll be completely comfortable in these as you lounge around the spa.

5. Honey ginger tea. After your treatment, your therapist will ask you if you want some tea to drink in the Serenity Lounge. You'll get a small cup of ginger tea, which is brewed fresh every day by the neighboring Roof Garden Café kitchen. It's a ritual we look forward to at every visit. Can't get enough? Ask a spa coordinator for the recipe and you'll be able to brew some of the delicious tea at home.