What does the relaxation area look like at The Peninsula Beverly Hills Spa?
Answers from Our Experts (2)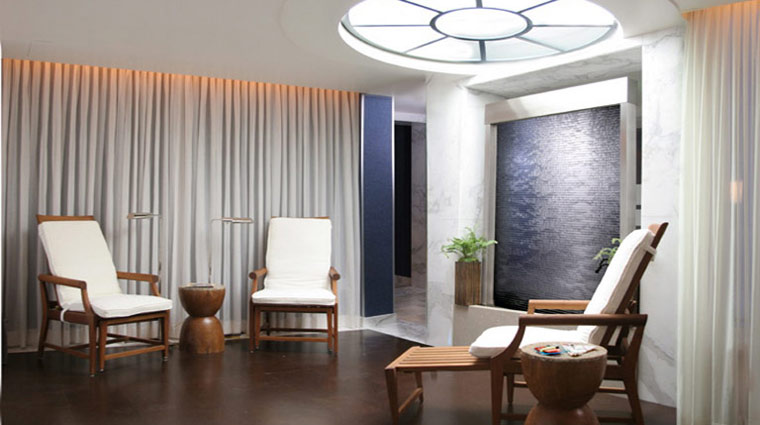 ©ThePeninsulaBeverlyHills/VFMLeonardoInc
The Peninsula Beverly Hills Spa's cozy serenity lounge relaxation area is chicly decorated with blue, green and neutral tones — reflecting the elements of air and water that are the inspiration for the Los Angeles spa's decor. The small space's design is quite simple, but there are still splashes of color and natural light, which beams down from the circular skylight. Wooden lounge chairs with soft white pillows make a good place to stretch out your legs and relax with one of the magazines or newspapers on hand in the room. Small wooden tables that look like drums sit nearby and add to the charm of the space. An eye-catching blue tiled-waterfall decorates one wall, while the others are covered with white curtains and white drapes, keeping the room private from the rest of the Forbes Travel Guide Four-Star spa. Dark wood floors add to the warmth of the room.

We love the small booth-like nook, which can be closed off by drawing the sheer white curtains, in case you want to relax alone or have a quiet conversation with a friend. Tables hold refreshments like dried apricots and cranberries, raw almonds, bottled Fiji water, chilled cucumber and orange-infused water, tea and fresh whole fruit. We recommend savoring this part of the experience at The Peninsula Beverly Hills Spa — prop your feet up, cozy up with a fluffy blanket and stretch out before or after your treatment to get the most relaxation out of your visit.

The natural furnishings and relaxing aqua blue tones of the Serenity Lounge's décor induce guests into a state of relaxation at The Peninsula Spa. Beverage stations containing herbal teas and cucumber-citrus water, plus healthy snacks, are easily within reach, and all of the latest publications are available to read while listening to gentle spa music.