What is the interior design of The Peninsula Beverly Hills Spa?
Answers from Our Experts (2)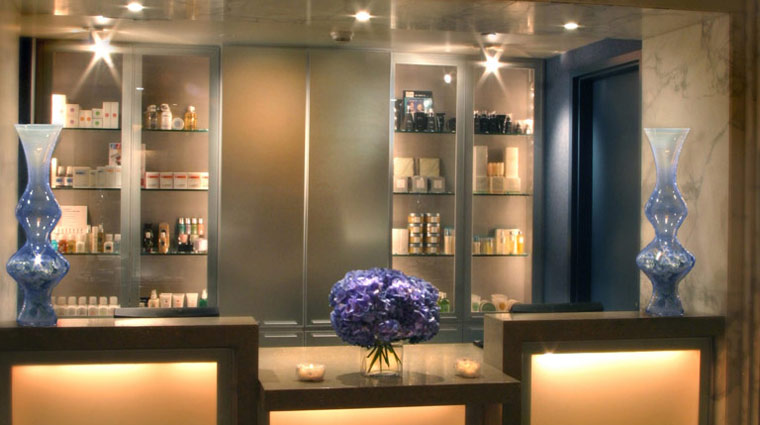 ©ThePeninsulaBeverlyHills/VFMLeonardoInc
The interior design of The Peninsula Beverly Hills Spa is modern and relaxing. The entire Forbes Travel Guide Four-Star spa is decorated in blue and green hues along with neutral colors of cream and brown. The lobby area is small but intimate, with just a reception desk and doors leading to the locker rooms and Serenity Lounge. The locker rooms, which feature the same décor and colors as the rest of the spa, are stocked to the brim with everything you need to freshen up after your treatment. The chic rooms have white and gray marble walls and cream and gray marble-tiled floors with soft, plush cream rugs. Other walls sparkle with tiny tiles of various shades of blue. Sea-foam green consoles are stocked with chilled towels, citrus-infused ice water and whole fresh fruit. A little further inside is a sitting area, with two lounge chairs, a cream ottoman and a table filled with magazines, for kicking back before moving into the Serenity Lounge (the spa's name for its relaxation area). Elegant touches like fresh orchids and crystal lamps are scattered throughout the spa.

The Serenity Lounge features wooden lounge chairs with soft white pillows on them, so you can stretch out your legs and relax. Small drum-shaped wooden tables sit beside the chairs so you can rest your beverages there while you read a magazine. A soft blue tiled waterfall glistens on one side of the wall, while other walls are covered with sheer white curtains and drapes, making the room feel very secluded from the rest of the spa, so you can get some well-deserved quiet time. Floors are dark wood and a circular skylight sheds natural light into the tranquil room. A nook can be drawn closed with sheer white curtains for added privacy, so you can lounge on the cushy blue bench in solitude.

Treatment rooms are simple and cozy, with dark blue walls, wooden floors and soft massage beds with white linens. A soft, glowing rock lamp sits on the counter area next to a sink. There's also a hook on the wall for you to hang your robe.

The entire design of the spa offers an uncluttered and modern approach that is utterly relaxing and comfortable. The colors evoke air and water — themes you'll find throughout the Los Angeles spa.

Natural furnishings and aqua blue tones complement the marble and granite in The Peninsula Spa's timeless and classic interior décor.