What is the waiting area like at The Peninsula Beverly Hills Spa?
Answers from Our Experts (2)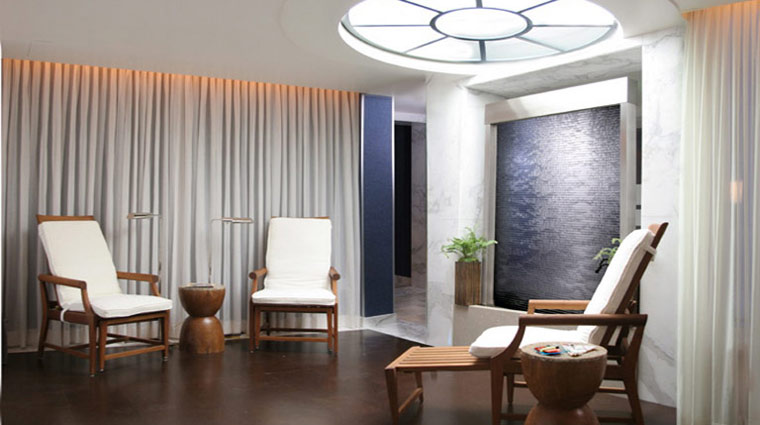 © ThePeninsulaBeverlyHills/VFMLeonardoInc
There is no waiting area in The Peninsula Beverly Hills Spa per se; but the relaxation area is incredibly inviting. After checking in, you're immediately escorted to the Forbes Travel Guide Four-Star spa's locker room, where you'll place your belongings in a locker and change into your lush robe and slippers. In the locker room, you can relax and read magazines or lounge in the eucalyptus steam room. Choose to venture back out into the lobby and a staff member will escort you to the Serenity Lounge, just around the corner from the spa reception. Here, you'll find plenty of magazines and newspapers to read, iced tea and water to keep you hydrated, and chocolates, seasonal mini muffins, fresh fruit and an assortment of nuts to keep you satiated.

This quiet and relaxing room is decorated in blue, green and cream hues and features lounge chairs and a secluded nook that is draped off so if you and a friend want more privacy, you can crawl into this space, cover yourself with a blanket and prop your legs up on an ottoman. You'll wait here before your treatment and can also unwind and rehydrate here afterward. When your service concludes, your therapist will offer some honey ginger tea — take her up on it. It's a great ending to a relaxing treatment.
Our waiting area at The Peninsula Spa is fittingly named The Serenity Lounge. Guests can relax in this room before and after their services and enjoy cucumber-citrus water, herbal teas, fresh fruit juices and spa snacks while perusing health and fashion magazines.