What are the best amenities at The Hermitage Hotel?
Answers from Our Experts (1)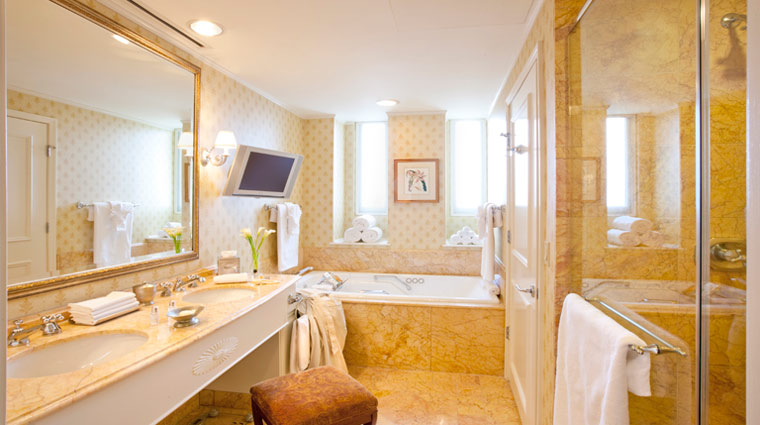 ©TheHermitageHotel
The Hermitage Hotel might be small, with just 120 rooms, but it's big on unique amenities. Here is our list to keep a look out for when you arrive at the Nashville hotel:

1. The in-room refreshments. You've never seen a mini-bar like this. Rooms at the Hermitage are loaded with locally-made snacks and drinks. Treats from Nashville's bean-to-bar chocolate maker Olive & Sinclair; Truffle Babies from Colts Chocolates; Twang Town gourmet nut brittle and Jack Daniels whiskey will make your stay at this hotel that much sweeter.

2. The luxury touches in the bathrooms. A 20-inch flat-screen LCD TV mounted in each guest bathroom, so you can watch your favorite television show while getting ready for a night in Nashville's honky tonks or watch a movie while you enjoy a leisurely soak in the extra deep tub.

3. The views. Tennessee's stately Capitol building can be seen from many of the guest rooms at this Forbes Travel Guide Five-Star hotel. On weekdays, you won't find a better spot for taking in the action at the center of the state's government.

4. The pet program. If you're a pet lover, you will love the amenities available when your pet accompanies you to the luxury Nashville hotel. Your furry friend gets turndown service just like you do, with treats, bowls and beds made just for them.

5. The hotel's boutique. The onsite Rachel's Gifts is more than a gift shop — it has such an excellent rotating line-up of merchandise that locals shop here, too, and eagerly await arrival of new products. The boutique showcases creations from many local designers and artists.