What are rooms like at Mandarin Oriental, New York?
Answers from Our Experts (2)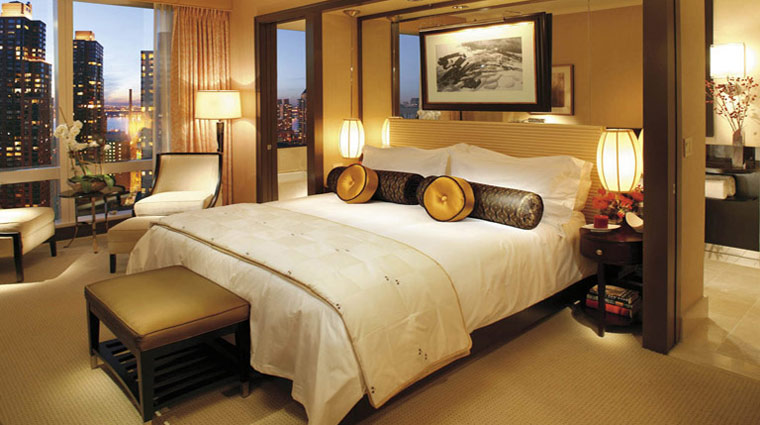 © Mandarin Oriental Hotel Group
The rooms at Mandarin Oriental, New York combine sleek elegance with neutral colors. Cheerful red or orange pillows lend levity to the mostly neutral color scheme, allowing for modern artistry in each room. Contemporary photography and Chinese artwork typically decorate the walls of the luxury hotel's rooms, upstaged only by the Chinese-style lamps and shades that offer a traditional Asian elan. The East meets West feel continues in feng shui — promoting touches such as decorative ceramic fish, positioned by the watchful staff to create the right energy flow by facing the front door at all times. (Try moving the fish around a bit to see if the housekeeping team will return it them to their chi-friendly original location — they will.)



Guestrooms' color schemes encompass warm gold earth tones with blue accents to complete the look and feel of the room. The furniture is inspired by pieces from the 1940s. The rooms incorporate an Oriental-inspired credenza along with a lacquer desk that is Oriental in style. The art collections are eclectic, featuring Paul Ching-Bor, a Taiwanese artist who created a series of paintings featuring bridges of New York City, as well as another artist from China formally trained by a Chinese watercolor master and now residing in NYC. The guestrooms feature bathrooms with soaking tubs situated at windows — allowing guests to enjoy the views of New York while relaxing in the bath — plush terry bathrobes and slippers, and yoga mats.