What are the best amenities at The Peninsula Spa New York?
Answers from Our Experts (1)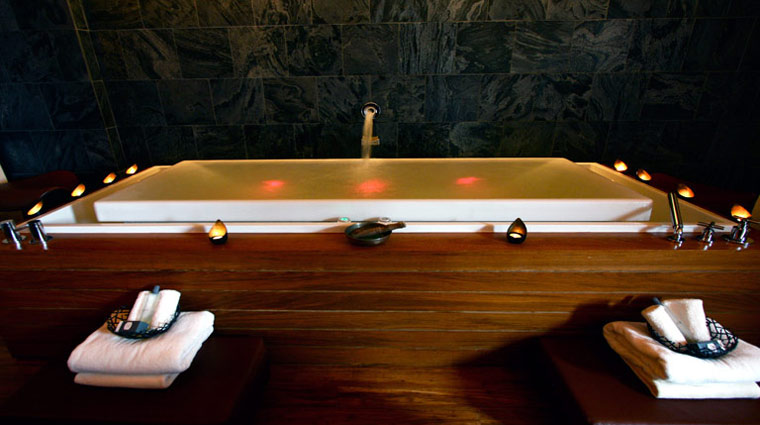 ©TheFiveStarTravelCorporation/AlejandraMartin
Tucked away inside one of the most prestigious hotels in New York City, The Peninsula Spa New York knows how to put on a show. From a snazzy 24-karat gold mosaic-tiled wall to inviting teak-tree sculptures, the interior design at the Forbes Travel Guide Five-Star spa doesn't skimp on the mood-pleasing furnishings. But this urban retreat isn't just about good looks; there are plenty of top-notch perks to experience as well. Here are the best amenities at The Peninsula Spa New York.

The steam room at this spa isn't just any steam room, and the showers aren't just plain showers; the thermal suites at The Peninsula Spa New York are full of sensational appeal. Inside the separate men's and women's areas, you'll find an aromatherapy steam lounge, where a refreshing eucalyptus scent will soothe your nerves. The experience showers include a multitude of water settings; rinse off under a rainforest sprinkling or let the water attack from all sides. If the heat is all too much, an ice fountain loaded with refreshing ice shavings offers chilly instant relief.

One thing this spa is proud of is their deep tissue massages. Along with a facial cleanse, head and foot massage and full-body exfoliation, this two-hour treatment includes a massage using a free-flowing joint release technique, which means just one thing: your muscles will feel like jelly after these expert masseuses are done with you.

If you're in a rush, or just want a jolt of pampering, the luxury New York spa does offer shorter treatments, but we suggest booking their signature two-hour massages and scrubs, or better yet, the half-day or full-day experiences. Along with the you-won't-regret-it treatments, you'll gain access to the cutting-edge fitness center, 42-foot pool and floor-to-ceiling windowed Movement Center, where you can stretch your way through yoga, Pilates and core workout classes. If you happen to forget your training gear, the staff will supply you with a T-shirt, shorts and socks to get you prepped for a run on the treadmill.

Not only is the spa menu at this Asian-inspired retreat designed with the use of exquisite products, but you can purchase them after your treatment in the spa lobby. Pick up the massage oil or salt scrub used during your treatment to enjoy at home.

After a long day of sitting in the steam room, getting a deep-tissue massage and having a facial, all you'll want to do is relax. You can do just that in the men's or women's lounges, which include four cocoon-like adjustable loungers to snooze on. Slip under a down comforter and take a nap or slip on the complimentary headsets and listen to one of seven spa radio channels, all set to soothing music. Coconut water, organic teas, and dried fruit and nuts are available to quell any hunger you worked up during your power steam room session.