What is the design style of The Inn at Little Washington?
Answers from Our Experts (1)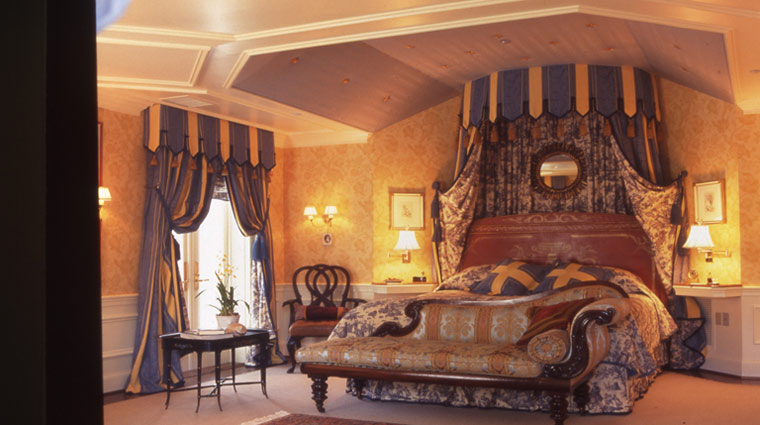 © TheInnatLittleWashington
If we could sum up the entire design style of The Inn at Little Washington in just one word, it would be theatrical. But this Northern Virginia country inn is way more than that. Housed in an old garage — obviously elegantly restored — this Forbes Travel Guide Five-Star spot embodies everything that you would expect from a luxury hotel. Tucked away in a town that hasn't changed very much from its heyday in the 1700s, this 18-room property is as fancy as it gets but still maintains the comfort and welcoming atmosphere that invites you to spend even the most lax night lounging beneath its roof.

The plantation-style home is dressed to the nines with luscious fabrics and irreplaceable artwork. The designer — Joyce Evans — has worked with Patrick O'Connell, the proprietor and chef of the property, since 1981. Based out of London, Evans does all of the interior design sight unseen, with nothing but the floor plan in hand. She's visited the property just five times, usually coming after a couple of major projects are done. Joyce Evans is an embroiderist by training but worked for a famous architect in London where she learned to combine her two strengths and master the trade of interior design. As a past set designer and an expert theater designer, it's no wonder that Evans decided to apply her strengths to this Five-Star hotel.

The Inn at Little Washington has Old English flair but not in a tightly wound and stuffy way. Just get a glimpse of the cheese cart in the Five-Star Inn at Little Washington restaurant. (Hint: It's a cow.) With the elegance of the Old English style mixed with Victorian overtones, each and every room at the historic inn is unique.

The moment you walk into your room, you'll notice the heavy drapery. No one does that kind of drapery anymore; but at The Inn at Little Washington, it totally works. In one of the bi-level suites, the couch actually boasts a canopy of floral drapes above it, yet it feels anything but stuffy. The overall design style of this Five-Star hotel emits a fancy, but inviting aura. We aren't saying you'll want to decorate your own home like this, but you'll certainly appreciate the theatrical design style of this Five-Star hotel.