What is the interior design of The Inn at Little Washington?
Answers from Our Experts (1)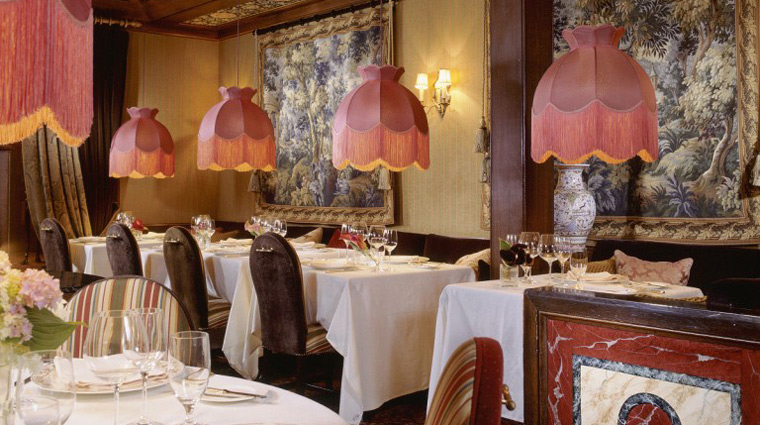 ©TheInnatLittleWashington
If you're imagining a basic old dining room outfitted with a few chandeliers, think again — The Inn at Little Washington is anything but plain and simple. In fact, it is almost theatrical in design.

The Northern Virginia inn's owner and chef, Patrick O'Connell, has worked with the interior designer, Joyce Evans, since 1981. Based out of London, Evans does all of the interior design sight unseen, with nothing but the floor plan in hand. Originally trained as an embroiderist, Joyce Evans turned to a famous architect in London for work where she eventually learned to intertwine her greatest strengths and acquire the art of interior design. With set and theater design in her past, Evans expertly incorporates the art into this Forbes Travel Guide Five-Star restaurant.

As you enjoy afternoon tea or an aperitif before dinner, we encourage you to ogle at the amazing interior design in the Living Room filled with dark corners and unusual uses of light. We want to say that the restaurant is very much in the Old English style, but we don't want you to picture a tightly wound and stuffy area because it's far from that. All you have to do to realize the lack of stuffiness is take a look at the restaurant's cheese cart. (Hint: It's a cow.) In her latest projects, Joyce Evans has mixed the Old English style with strong Victorian overtones.

The dining room is even more incredible than the Living Room. With original Flemish tapestries and unbelievably detailed wallpaper, it's hard to imagine anything more unique. The lights hanging over every table are covered with pink shades with fringe, and we can't forget the signature heavy drapery. In the Terrace Room — right off the main dining room — the ceilings are tented with wonderfully beautiful cream-colored fabric.

The theatrical interior design of The Inn at Little Washington may sound a bit tacky with its heavy drapery and whatnot, but it's not. We aren't saying that we (or really anyone but The Inn) could pull it off in our own home, but you have to appreciate it for what it is — amazing. All of the ornate details add to your Five-Star dining experience in a way that you never thought possible.