What five things do we love most about Four Seasons Resort Palm Beach?
Answers from Our Experts (1)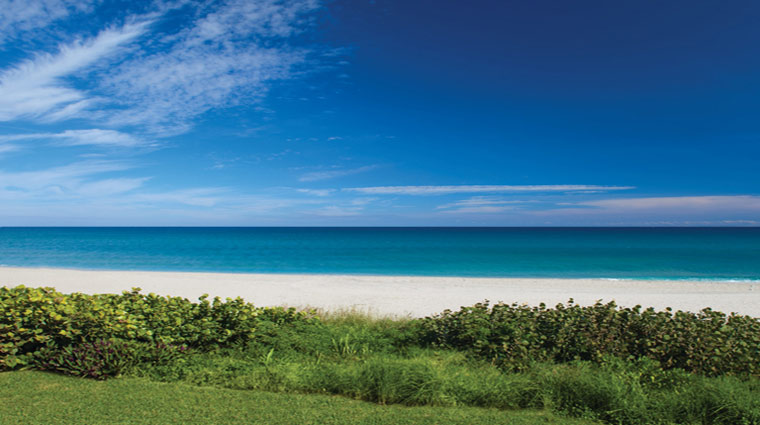 ©FourSeasons
To be honest, there's not much we don't love about Four Seasons Resort Palm Beach. Located literally steps from the Atlantic Ocean, it's hard to believe that you're not somewhere in the Caribbean. But we've narrowed it down to a list of our five absolute favorite things about the luxury hotel.

1. The pool. Surrounded by palm trees and lush gardens, the pool is definitely one of the best parts of this resort. Ideally located just a stone's throw from the beach with staff serving you everything from lunch to an Evian spritz. Plus, the heated pool is flanked by plenty of lounge chairs for you to lie back and forget the world.

2. The beach. As you lounge on beach, relaxing to the rhythm of the crashing waves and rubbing your toes in the warm white sand, an attendant will bring you a refreshing cocktail to enhance the serene moment. The expansive beach is perfect for a romantic sunset stroll or playing Wiffle ball (which you can borrow) with the kids.

3. Resort style. This property is more than just a hotel; it's a resort that offers endless activities including deep-sea fishing and sailing as well as yoga classes and a full program for the little ones. Though you can easily leave the property, you won't feel the need.

4. Activities. Whether you're a kid at heart or traveling with your own kids, activities abound at this resort. There are tennis lessons, windsurfing, kayaking and golf. And a full program of daytime activities for the kids means you can do your own thing and still be assured that they'll be in good hands and far from bored.

5. Poolside massages. Lounging by the serene pool and feeling the warmth of the sun is relaxing in itself. Just one more thing will give you a feeling of pure bliss: a massage. You don't have to go anywhere; spa staff offers these heavenly massages by the pool at the Forbes Travel Guide Five-Star hotel.