What are the best bars in Paris?
Answers from Our Experts (2)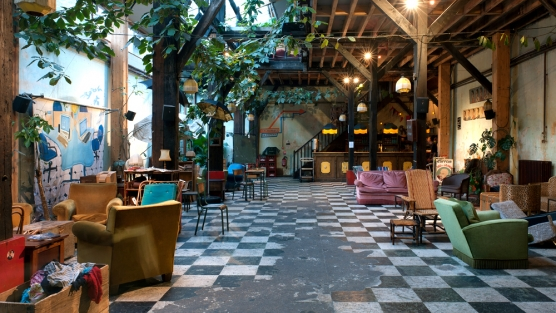 Julien Ferret
Paris has so many bars to try, each one more original than the other, as well as its staple bistro de quartier, where you can get a decent glass of wine at pretty much any time of the day (or night).

However, for something a little below-the-radar and a bit more unpolished head to the trendy Le Comptoir Général (80 quai de Jemmapes, 75010) on the Canal Saint-Martin. Across the canal from Chez Prune take the blue double doors that lead to a small courtyard and to the entrance of this curious brick-à-brack bar with an African twist.

The crumbling walls are split with climbers reaching up to the ceiling, where you'll find the library (sponsored by Oxfam). The bar's main draw is its original shabby-chic interiors put together with mainly reclaimed bits and bobs. The signature cocktail here is the Secousse, which is made with Bissap juice (Senegal) and is one to try without doubt. A tip: get there early if you want a chance to get in.

Another bar that also gets jam-packed no matter what night of the week it is, is Candelaria (52 rue de Saintonge, Paris 75003). Located in the Marais, the place looks like a small Mexican taco bar but walk in all the way to the back and push the non-descript door. On the other side of the door is a crowded yet cosy bar with several little nooks with sofas where punters can sit and enjoy a drink. Again, if you want a table make sure you get there before 7:30pm.

For something a little more formal, head to the Hotel Raphael's smart Salon Bleu (17 avenue Kléber, Paris 75116), which is an ideal little haven for catching up over a Bombay Sapphire or two.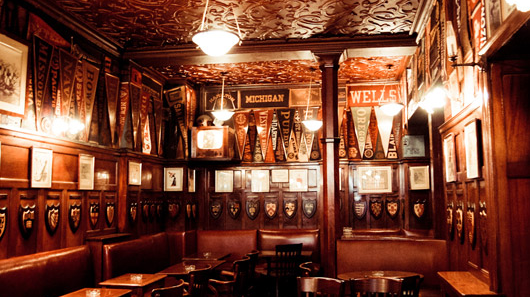 Known for its sidewalk cafés, full of locals planted at the bar enjoy a 'demi' or half-pint of beer, Paris' bar scene is rather traditional. In the last couple of years, Paris has seen more and more cocktail bars opening up, like the lounges by the Experimental Cocktail Group. ECG is responsible for bringing the New York speakeasy, mixologist trend to Paris with their five bars around the city. To enjoy the underground speakeasy vibe and a great cocktail, my favorite bar is The Ballroom.

For a great vibe and a pint of beer, I love going to Le Mansart with friends. If we are looking to dance, but don't want to go to a "club," then we always head to Le Carmen, a bar inside the mansion where Bizet lived when he wrote the opera, Le Carmen.

Another favorite spot for enjoying a beer while watching American sports games is The Moose, located in Saint Germain. Near The Moose, on rue des Canettes, are several other bars that are frequented by ex-pats and tourists alike.

Up in Montmartre, my neighborhood, one of my favorite bars (especially in the warmer months) is Chez Camille, where the staff is friendly and the views from the patio are spectacular. Down in Montmartre, a couple of great places to get a drink are La Perle and Derrière, and just inbetween the two neighborhoods are great bars like Le Pompon and L'Inconnu, where the hipster crown tends to dance the night away in between cigarette breaks outside. In the summertime, places with a rooftop like Mama Shelter in the 19th and Wanderlust with its huge patio overlooking the Seine river, are great to enjoy a drink with friends.

For a classic cocktail in Paris, Harry's New York bar near the Opera Garnier is one of the oldest bars in the city, and is famous for its bloody mary's and sidecars. The Hemingway bar at the Ritz Hotel will be open again in 2014 after undergoing major renovations, and is one of the must-visit historic bars in Paris for its cozy atmosphere and long list of celebrity patrons.

There are so many great places to enjoy the Parisian nightlife, and a new bar opens up every week it seems, but if you're looking to unwind with a drink in Paris, you won't have to look far.