What are the best museums in Paris?
Answers from Our Experts (2)
In this world capital of art and culture, it feels as though there's a museum for every day of the year, but there are a certain few I find myself returning to again and again. Here are the Paris museums I would recommend to any first-time or return visitor.

1. Musée du Louvre. This one is the biggie, of course. Home of "The Mona Lisa," "Venus de Milo" and "Winged Victory of Samothrace." Former home of Louis XIV. Beyond the works of art, the palace itself is a must-see, and entering through I.M. Pei's pyramid never gets old.

2. Musée d'Orsay. Housed in an awe-inspiring former train station, the Musée d'Orsay has one of the world's greatest collections of Impressionist and Post-Impressionist art. It's the best place to get acquainted with van Gogh, Gauguin, Lautrec, Degas and the like.

3. Musée de l'Orangerie. On the Jardin des Tuileries, l'Orangerie displays Monet's "Water Lilies" in spectacular, circular fashion.

4. Musée Rodin. The sculptor's former home and garden — where you'll find "The Thinker" — is a lovely setting for this large collection of his works. On a sunny day, the garden is the perfect place to take a break from museum-hopping for a bit.

5. Musée National Picasso. Reopening in summer 2013 after a major renovation, this Picasso museum is a great excuse for hitting up Paris' Marais neighborhood. It also offers a fabulously large collection that's bigger than the museum itself and therefore frequently rotated.

6. Centre Pompidou. Paris' principal modern art museum often hosts blockbuster exhibits (think Dali) and can always be counted on for a taste of the more out-there reaches of art (think eery audio or empty voids).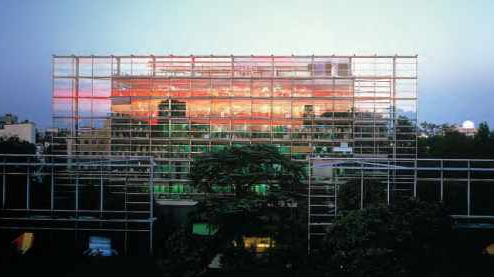 While visiting Paris, it's worth exploring the Louvre, Orsay and the Grand Palais, but the city also has plenty of art to see outside of its blockbuster museums.

The Fondation Cartier (261 boulevard Raspail, Paris 75014 - metro Raspail, lines 4 and 6), not to be confused with the Fondation Henri Cartier-Bresson, is a contemporary art institution designed by highly acclaimed French architect, Jean Nouvel. Opened in Paris in 1984, the foundation's aim has been to raise awareness about contemporary art through carefully chosen themes and artists. The exhibitions hosted here are extremely eclectic and have ranged from Voodoo art to the history of graffiti. Next up is the incredibly talented Australian realist sculptor, Ron Mueck, whose work will be showcased from 16 april-29 September 2013.

For photography amators, the Maison Européenne de la Photographie (MEP - 5/7 rue de Fourcy, Paris 75004, metro Saint-Paul, line 1) and the Jeu de Paume (Place de la Concorde, Jardin des Tuileries, Paris 75001, metro Concorde, line 1, 8 and 14) are the places to go for well put-together exhibitions. While the Jeu de Paume is on the main circuit, it isn't hard to see why shows here draw in thousands of visitors from all over the world. Showing works by Federico Fellini, the iconic Italian film director, to controversial projects by Ai Weiwei and the eerie portraits of the revolutionary American photographer Diane Arbus, the Jeu de Paume's aim is to raise awareness about the central tenets in photography. The MEP on the other hand, hosts smaller but more niche shows of less high-profile photographers who are well-known in the milieu.

A rather unsual museum that captures the essence of mid-twentieth century Paris, is the Musée de la Chasse et de la Nature (62 rue des Archives, Paris 75003, metro Rambuteau, line 11). Hidden in the backstreets of the Marais behind a heavy-set wooden door, is a small museum that is sure to awaken your primal senses as the long-forgotten thrill of the hunt is revived. Pieces of taxidermy art are displayed in the sumptuous maze of salons and cabinets of a former eighteenth-century house.

Last but not least on the list of museums to visit while in the city, is the Musée d'Art Moderne de Paris (MAM - 11 avenue du Président Wilson, Paris 75116, metro Iéna or Alma-Marceau, line 9), which shows mainly large retrospectives of works by artists such as Jean-Michel Basquiat and Linder Sterling. Next to grace the venue is a Keith Haring retrospective, which will run from 19 April-18 August 2013.