What are the best stores for designer clothes in Paris?
Answers from Our Experts (2)
If you don't have the time to dart from one end of Paris to the other, your best bet is heading to a department store. Shops in the city aren't always concentrated in one area and apart from at the Place d'Italie shopping centre, which is fairly average, there are no shopping centres or malls like in the USA. Another difference worth remembering is that most shops are closed on Sundays – the four department stores cited below are all closed on Sundays.

1. Printemps is on the emblematic Boulevard Haussmann, one of the longest streets of Paris that stretches from behind the Champs Elysées to the Grands Boulevards. A wide range of designer clothing, accessories and cosmetics are sold here. Just beware of the seething crowds – avoid Saturdays at all costs. Metro line 3, 9 or 8 to Havre Caumartin or Chaussée d'Antin Lafayette.

2. Galeries Lafayette is another upmarket French department store with smaller outposts throughout the country. As well as designer labels, it also stocks mid-range prêt-à-porter like Galerie Lafayette's own brand range. As above, avoid shopping here on Saturdays as it gets extremely busy. Metro line 3, 9 or 8 to Havre Caumartin or Chaussée d'Antin Lafayette.

3. Le Bon Marché is a firm favourite among wealthy locals as it only sells upmarket designers. Here you will also find stationery and home ware concessions, cafés, and a wonderful épicerie (food hall) that sells everything you could ever wish for, from macaroons to Heinz baked beans. Metro lines 10 or 12 to Vaneau or Sèvres Babylone.

4. BHV (Bazar de l'Hôtel de Ville) stands in a magnificent location between the Paris Town Hall, the Seine and the bohemian Marais neighbourhood. The BHV stocks everything you could imagine, from bathroom accessories to pricey underwear.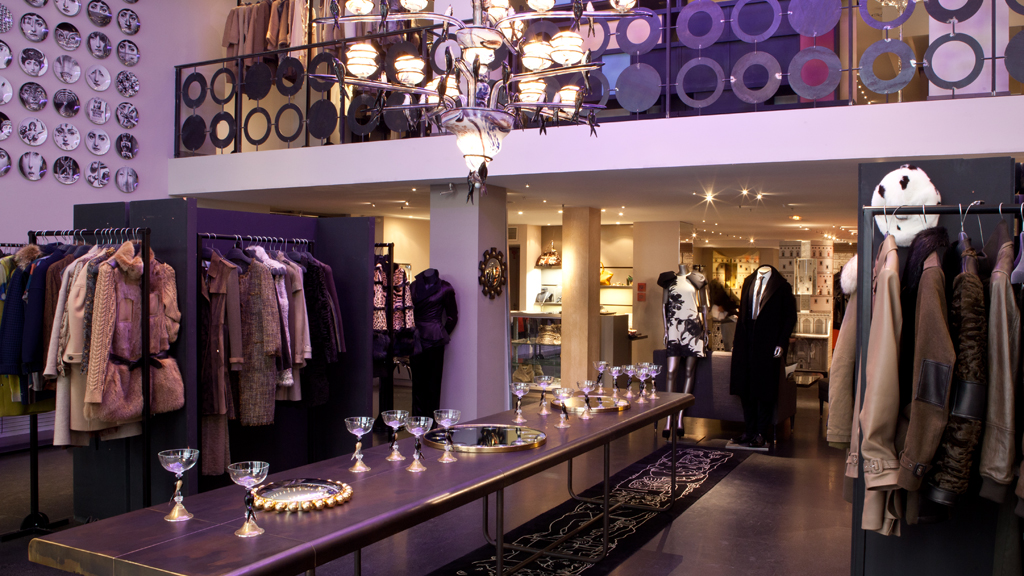 Shopping in Paris is an experience unlike in any other city, and there are several multi-brand stores that you can't miss if you're looking to buy designer clothes while visiting.

Merci: a well-edited concept store located on the Eastern border of the Marais neighborhood. Here, you'll find brands like Carven, Jerome Dreyfuss, and Aesop, plus a gorgeous collection of homewares and specialty products. There are also three restaurants associated with Merci, including a charming café in a library full of used books for sale, a healthy bistro next door to the shop, and a cantine on the bottom floor. The proceeds from the sales at Merci go towards a charity that helps underpriveleged children in Africa. Plus, they have rotating art exhibits in the entry of the shop, making it a must visit for many reasons!

Merci
111 boulevard Beaumarchais 75003 Paris
Tel : + 33 (0)1 42 77 00 33


Montaigne Market: Located on the bourgeois Avenue Montaigne, this multi-brand store carries super luxury brands like Brian Atwood, Prabal Gurung, and Worth. Amongst the many luxury shops on the street, Avenue Montaigne stands out for its nicely selected collections, modern decor and a truly luxurious shopping experience.

Montaigne Market
57 Avenue Montaigne, 75008 Paris
Tel: +33 (0)1 42 56 58 58

Colette: One of the most iconic shops in Paris, Colette just celebrated its 16th anniversary. Over three floors, Colette is the queen bee when it comes to art-meets-fashion collaborations and keeping the fun in shopping. On the basement floor, there is the Colette Water Bar, a great place to refuel in between shopping binges. The ground floor is where you'll find things like quirky books, the Colette surprise bag, mens fashion, candles, watches, and other accessories like Lomography cameras. In the back of the ground floor are more products like makeup, perfume, and other goodies. The top floor is where much of the magic happens, as it is where the designer goods are sold- including bags by Proenza, Céline, Givenchy and Saint Laurent, plus lesser known brands like Maripol. I love how their mannequins change each week to feature different outfits highlight new designers. Colette is also perfectly located, as it's on rue Saint Honoré and is surrounded by some of the best designer shopping in Paris.

Colette
213 rue Saint-Honoré 75001 Paris
Tel: +33 (0)1 55 35 33 90


L'Eclaireur: Armand and Martine Hadida now have four branches of L'Eclaireur, a luxury multibrand
boutique established 30 years ago, across Paris, stocking edgy designers such as Ann
Demeulemeester and Dries van Noten for the discerning fashion crowd. Their boutique inside of the Royal Monceau Raffles hotel is incredible, as there is a full-length 3-sided digital mirror, which can project images thrown on it from an iPad. They also stock homewares and their Marais boutique is dedicated to mens fashions. Each of L'Eclaireur boutiques has a unique vibe and a different stock, so be sure to check out each of them!

L'Eclaireur
8 Rue Boissy d'Anglas, 75008 Paris
tel: +33 (0)1 53 43 03 70

Le Royal Eclaireur
39/41, avenue Hoche 75008 Paris