What are the five best Paris food experiences?
Answers from Our Experts (3)
Nothing about French food is bad — and when you dine in Paris, the experiences only get better. From a warm crêpe from a street vendor to an infinite wine list in a bistro, there are plenty of Parisian food experiences to be had. Here are our Forbes Travel Guide editors' favorites:

1. Chez L'Ami Louis. You'll have to make reservations a few weeks in advance, but it's well worth it. Chez L'Ami Louis is a tiny bistro with big flavor — literally, everything on the item is huge. From the escargot to the beef, the portions are large but full of flavor. The wine list is one of the best in town, and you can leave it to the servers to pair your meal perfectly.

2. L'Ecume Saint-Honoré. If you didn't know what you were looking for, you'd walk right by L'Ecume Saint-Honoré. This little eatery serves up some of the best oysters our Forbes Travel Guide editors have tasted, and the atmosphere is charmingly Parisian. Grab a seat at one of the few tables in the back or pick up some oysters to go.

3. The Latin Quarter. For ethnic cuisine, head to Paris' eclectic Latin Quarter. You'll find street after street lined with restaurants serving fare that ranges from Middle Eastern to Swiss. You'll likely see restaurateurs trying to lure you into their eateries as you stroll through the streets.

4. Crêpes. Stop at just about any street vendor throughout the city and you'll find crêpes on the menu. Whether you opt for one with Nutella, ice cream or jam, the thin pancakes make for a delicious snack. If you're really in the mood for a sweet treat, we recommend filling your crêpe with Nutella, ice cream and whipped cream.

5. Parisian bakeries. Head to the boulangerie in the morning for a fresh baguette and a few croissants. Be sure to bring some cash — things go much swifter and many bakeries don't accept credit cards. The irresistible aroma of the fresh bread straight out of the oven is enough to get your mouth watering.
Paris is synonymous with good food so choosing just a handful of experiences is near impossible, especially as Paris is so multicultural, with each culture bringing its own savoir-faire to the city. At a squeeze though, I would select a total French food frenzy at Paris' oldest market founded in 1615: the Marché des Enfants Rouge (outdoor/indoor food market between Temple and the Marais).

Try one of the best tagines (try the chicken and olive) you will ever taste in Europe in one of the most beautiful settings in the city, at La Mosquée de Paris (not to be confused with La Grande Mosquée de Paris). The restaurant is open to everyone, it has two pretty terraces, shisha on the go and a hammam (note that for the hammam there are different attributed days for men and women). North African culture makes up a large part of Paris' identity and this is the place to get a feel for it.

In the summer, you haven't experienced Paris until you have a picnic of cheese and wine on the Canal Saint Martin or on the banks of the Seine close to Notre Dame Cathedral.

I mention this earlier on in the question on The 5 best things to see and do in Paris, but I stand by having a crêpe filled with Nutella and chopped banana as you stroll through Montmartre in the crisp cold Christmas air in the winter time as one of the best Paris food experiences.

Last but certainly not least, a stop in the Marais' rue des Rosiers, where you will find the streets lined with Jewish cafés and restaurants serving delicious falafel; you can either sit in or have it to take-away; you'll notice a bunch of people standing or perchinga round indulging in hot falafel throughout the day - just remember that due to the Sabbath, these falafel shops tend to be closed on Saturdays.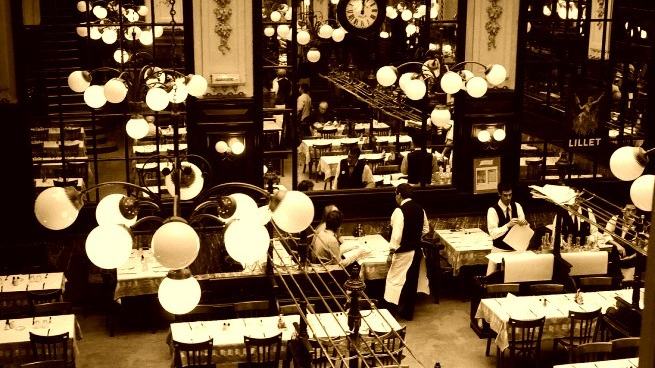 1.Eating a crêpe on the street- This has got to be my number one favorite food experience in Paris for its simplicity and accessibility. A warm crêpe, whether filled with sweet Nutella or savory jambon et fromage, is delicious at any time of the day. Luckily, crêpes are available in every neighborhood of Paris, but if you want to try one of the best, head to L'avant Comptoir in Saint Germain. You won't be disappointed!

2. Picnicking on the Seine- there is no better way to soak up that enchanting Parisian vibe than to have a picnic at sunset on the tip of the Square du Vert Galant on the Île de la Cité. From under the weeping willow, you have a view onto the Pont des Arts, where silhouettes fade as the sun goes down behind the Eiffel Tower. It's truly magical. Grab a baguette, a wheel of brie, and a bottle of wine (don't forget the opener!) to complete the experience.

3. A classic brasserie- A brasserie is a full-service restaurant that serves classic French food all day, any day of the week. A brasserie is a cultural gem in France, and respected as a culinary institution. The word brasserie comes from the word to brew, as they would brew beer at brasseries in the past. The menu at a brasserie is generally very classical, and heavy on the meats. For a wonderful brasserie experience, and a fabulous steak, head to Au Boeuf Couronné. Their burger with brie and caramelized onions is killer, as is their hefty entrecôte for two. Other classic brasseries in Paris include Brasserie Lipp, La Coupole, Au Pied du Cochon, Chartier and Wepler.

4. Hitting the boulangerie while it's hot- There is nothing quite like delving into a croissant or baguette while it's still hot from the oven. I never make it home with a full baguette, I just can't resist biting into it while its still hot. The inside of a baguette should be tender and springy, while the outside should be nice and crispy. As for a 'baguette traditionelle' to be sure you get the best.

5. Le Grande Epicerie- One of my favorite food experience in Paris is taking a trip to the Bon Marché Grand Epicerie in Saint Germain. The mecca of food, this major grocery store is full of specialty products from around the world. You can find prepared foods to take on a picnic or grab some fresh produce, meats, and cheeses to take back and prepare yourself. They also just opened a massive wine section in the basement, where you could get lost for hours amongst the 2,000+ bottles.