What should I pack for a trip to Paris?
Answers from Our Experts (1)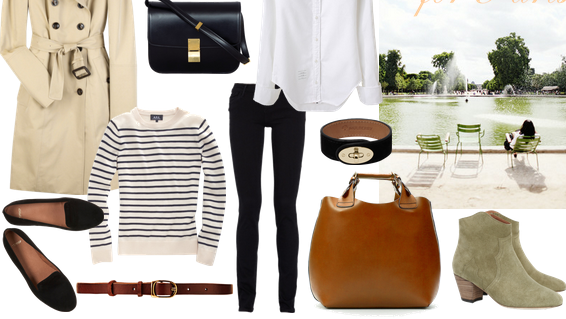 Parisians are known for having a chic, effortless style. But let me tell you, their style secrets aren't all that secret, and it's quite easy to copy them when packing for your trip to Paris. Here are the key things to remember when packing your suitcase:

1. Layers- considering the weather in Paris is unpredictable and rarely follows the rules of the seasons, it's always a good idea to bring clothes that can be easily layered. Light shirts and jackets for spring and summer are always a good choice, while in the winter you'll need to bring some heavier layers. It's always important to remember a rain jacket, as Paris has quite an extended rainy season these days.

2. Neutrals- one thing you'll notice about a Parisian's wardrobe is that there is little color to it. Here, its all neutrals- from black to grey, taupe to white, and often some navy blue, there isn't anything that can make packing easier than bringing items that are all in the same color family. If you want to limit the shoes you're bringing, try to stick to an all black and white, or an all tan, brown and white color scheme.

3. Day vs. Night- If you have the luxury of no weight limit on your bags, then it's a great idea to bring some nice clothes for going out and some casual clothes for the daytime. A great pair of jeans, flats or cute sneakers, some comfortable tops, a light jacket and a purse that is big enough to fit your camera and the essentials is all you really need for the daytime.

4. Special Occasions- Paris is a quite casual (chic) city, despite its lofty reputation for high fashion. Unless you're eating at Alain Ducasse or something of the equivalent, then there aren't many occasions where you'll need a tux or cocktail dress. If you plan on seeing a performance at the Palais Garnier, you might want to bring a nice outfit, as jeans and sneakers aren't well looked upon.

5.Outfit Repeating- One thing that might surprise you about Paris is that the French are known for their talent of wearing the same outift as many times as possible. I suppose it's true that "if it works, why change it?" but it also makes your life a lot easier when packing. Don't worry about bringing a different outfit for every day, instead, refer to tip #1 and remember layering also works when outfit repeating!

Bonus Tip #6: Empty Suitcase- Or, you could do as I would love to do, and come to Paris with an empty suitcase and just buy everything here! At least that way you have a much higher chance of not looking like a tourist. On a more serious note, don't forget to pack a weekend bag if you plan on taking an overnight trip from Paris and don't want to lug your big suitcase with you.