What are five things I should know about Georgian Room?
Answers from Our Experts (2)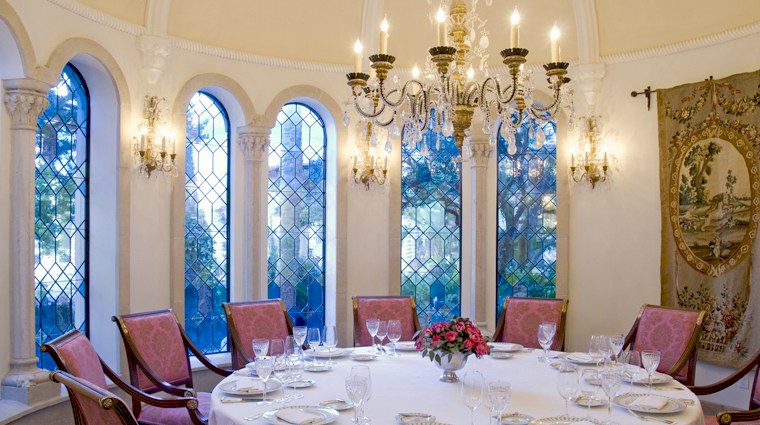 ? SeaIslandCo
If you're heading to Georgian Room, then you've already committed to getting to Sea Island Resorts, just off the coast of Georgia on Sea Island. But whether you fly into nearby Jacksonville, Florida, or drive from Atlanta, there is more to know about this fabulous restaurant than just how to get there. Here are a few other things to keep in mind when planning your dinner at this Forbes Travel Guide Five-Star getaway:

1. Old South décor. The Sea Island restaurant's interior design edges on the Scarlett O'Hara side. With the dining room overflowing with opulent crystal chandeliers, gold décor and a hard-carved fireplace, the design sets a refined, classy atmosphere perfect for any Southern belle. Even out-of-town Yankees will find this dining room to be a pristine, comfortable and sophisticated setting.

2. Dress your best. Keeping that Southern-style in mind, dress the part: No, we're not suggesting you arrive in a hoop skirt and bonnet, but you should pick attire fit for a special evening. Suit and jacket, dress and heels: The works.

3. Farm-to-table cuisine. You may find classic Southern flavors on the menu, but this is refined farm-to-table cuisine, so don't expect chef Julian Scheibel to whip up fried chicken and gravy. Instead, you can enjoy gussied-up favorites like cheddar grits soufflé or beef rib-eye with cornbread pudding.

4. Drawn-out meal. Don't think this is an in-and-out type of affair; you'll need to be prepared to spend at least two hours on your dining experience at Georgian Room. That's because chef Scheibel wants to create the most memorable experience possible; you'll find the friendly, attentive staff provide polished service and that dinner is served, and enjoyed at a leisurely pace.

5. Kid-friendly. Georgian Room is one of the most kid-friendly Forbes Travel Guide Five-Star restaurants you'll find; chef Scheibel is willing to take any dish and reconstruct it as a child suitable entrée. In fact, many of the restaurant's younger diners take etiquette classes during the hotel's summer program, so it's not unlikely to see well-mannered school-age children ordering caviar at this locale.
1) The Georgian Room Lounge, which is just off the restaurant, serves a Five-Star take on bar food paired with artisanal cocktails.

2) We get a lot of our farm fresh eggs, produce and charcuterie from Broadfield, which is owned by Sea Island and features a two-acre organic garden, commercial smokehouse, beehives and chicken coops.

3) The Georgian Room has been a Forbes Five-Star dining room for five consecutive years.

4) We have a four-seat chef's table in the kitchen with a remote-controlled high-def camera for true foodies and special occasions.

5) Breakfast is served daily and is one of many special culinary experiences at Sea Island.