What are some day trips worth taking from Sydney?
Answers from Our Experts (3)
1) Blue Mountains - 90 minutes west of Sydney, the Blue Mountains is one of the most popular day trip destinations for Sydneysiders and tourists. The name comes from a 'blue' haze hovering over the steep valleys and tree-covered mountains; the mist comes from the cloud of eucalyptus trees in the area. This World Heritage Site offers striking views of The Three Sisters, sandstone pillars, hiking trails, and an enormous gum tree forest.

2) Hunter Valley Vineyards - Pinot Noir, Shiraz, Muscato, Cabernet Sauvignon - are all locally produced in the Hunter region, just outside of Sydney. An hour and half drive north of Sydney, this is Australia's oldest and most commercial wine-producing and tasting region since the 1800s. With over a hundred vineyards spread across the towns of Cessnock and Pokolbin, the bushland landscape help create a rustic vibe for visitors. There are also helicopter tours available at the Hunter region.

If you're spending at least a few days in Sydney, spend at least one visiting the Blue Mountains. Named for the eucalyptus-scented mist that covers them, the mountains include signature formations the Three Sisters and Hanging Rock, and provide great views and hiking. On the way, also consider Muru Mittigar, an Aboriginal cultural center run by the Darug, who tell Dreamtime stories and teach visitors to throw boomerangs or play didgeridoo. Wine enthusiasts should consider spending a day in the Hunter Valley, one of the world's best wine regions and home to many notable vineyards. History buffs might want to spend a day in the capital city of Canberra. Just a few hours away, Canberra is home to some spectacular national museums and gardens, as well as beautiful Lake Burley Griffin and the country's always-contentious Parliament. Sydney has a good long-haul bus and rail system that makes these day trips easy, or you can take a rental car.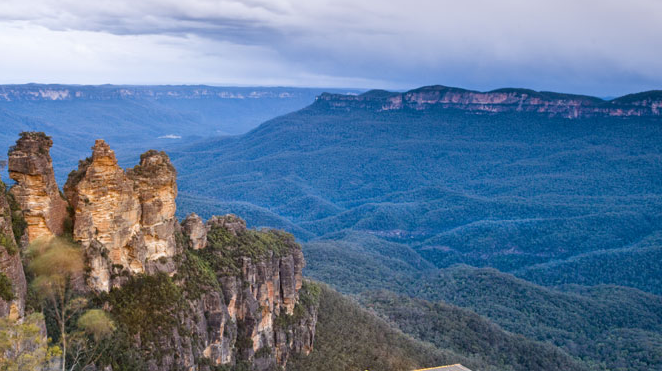 During your time in Sydney, you should plan a day and travel outside of the city. From the mountains to the bush to the beach, New South Wales has an abundance of striking landscapes for you to visit.

The Blue Mountains
Named for its blue eucalyptus haze, the Blue Mountains are great for a family-friendly day trip. Head to the area by car to enjoy scenic drives, tour the region and explore the national park home to the Three Sisters rock formation and old steam Zig Zag Railway. The largest town in the area, Katoomba, holds quaint boutiques and antique stores, and is in close proximity to some of the region's biggest attractions including the temperate Leura rainforest and Scenic Railway – the world's steepest railroad.

Bowral in the Southern Headlands
Bowral is to Sydneysiders as Deauville is to Parisians: a rustic escape from city life. This charming town full of historic manors and estates sits south of Sydney and is easily accessible by train or car. It's recommended you rent a car though to fully enjoy your trip from the picturesque ride down, to traveling to the local Mount Gibraltar for a must-do bushwalk. This small mountain rises over the town and holds many picnic areas and look out points, as well as a nature reserve at its peak. Head down for a day or a weekend to wander the town and its antique and artisanal shops, explore the landscape and discover some local vineyards on your way.

Palm Beach
At the northern most point of Sydney you'll find the beautiful Palm Beach. Grab a bus or a train and make your way to this northern beachside suburb. Here you'll find the beaches that Australia is known for, featuring white sand, deep blue water and surfers catching a wave. "Palmy" as some locals call it, has the ultimate beach town vibe. Spend the day in the sand, then head to a café where everyone's barefoot, footloose and fancy free.