What are five things to know about The Point?
Answers from Our Experts (1)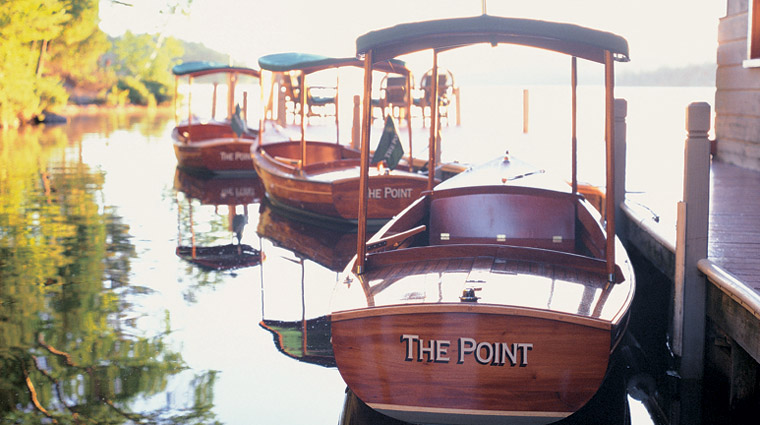 © ThePoint
While we don't want to take away from the many discoveries you make during your trip to The Point, here are five things we think you should know about this Forbes Travel Guide Five-Star hotel.

1. There is a no-children-under-18 policy. It's not that kids are not welcome — in a private buyout they certainly are. It's more that The Point is set up to cater to adults. There are, however, plenty of great kids' camps in the Lake Saranac area; if it works for your family, why not check the kids in there and treat yourself to some adult relaxation at The Point.

2. Limited cellular service. The intention of a getaway to this luxury hotel is to electronically "detox" yourself. While it's possible to pick up sporadic cell service, because you are in the Adirondacks the nearest cell tower's signal has a hard time penetrating the mountains. There is a small telephone room in Eagles Nest, just opposite the main house, where you can connect to the hotel's Verizon wireless system for Internet and keep tabs on your inbox. As the little note next to the instructions reminds you, "don't work too hard."

3. No televisions. Okay, so there is one large flat-screen TV in the Pub, which incidentally had been the Rockefeller's garage. However you won't find a TV in any of the guestrooms. This can be somewhat disconcerting upon arrival, but we're willing to bet that you'll forget all about it by the time you finish unpacking. That sense of relaxation washing over you is from the peaceful atmosphere of your surroundings.

4. Adirondack "wildlife." By this we mean small bugs, notably if you are visiting in the summer. It's not a big deal, but no one should travel to a forested region and not expect bugs of some type. Rooms are well-sealed and the hotel provides bug spray, but it'd be smart to pack your preferred spray, creams or ointments if you're prone to those pesky little bites.

5. The Boathouse is seasonal. The most spectacular room at The Point is the Boathouse. As the name suggests, the suite is situated above the boathouse and has a spectacular wrap-around porch with undisturbed views of Lake Saranac. It sits secluded from the main house and other cottages. This room is highly sought-after, and it is also unavailable in the winter. So if you have your heart set on this suite, plan accordingly — and well in advance.