What are five things you should know about Shanghai Terrace?
Answers from Our Experts (1)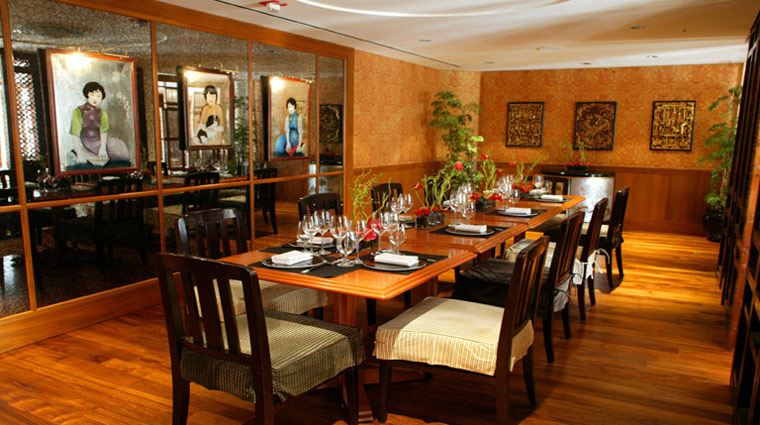 © ThePeninsulaChicago/VFMLeonardoInc
Before you rush off to Shanghai Terrace to nosh on authentic Asian cuisine, there are some things you should know about the Chicago restaurant. We've narrowed down the list to provide the five most important takeaways:

1. It sticks to its roots. The menu is based off of the Cantonese-Shanghainese fusion fare. You'll find authentic favorites, from crab wontons to a five-course Peking duck meal, and the plates are piled high, so you can share with your friends and family.

2. The location can be hard to find. The Chinese eatery is tucked on the fourth floor of the Five-Star Peninsula Chicago. To get there, take an elevator to the fifth-floor main lobby, then go to the staircase and walk one flight down. Keep your eyes peeled for the inconspicuous entrance: a small red door.

3. It's intimate. With just 70 seats and cozy table arrangements, the intimate main dining room is ideal for private conversations, making it quite the romantic meal. Guarantee your spot by calling the hotel or logging on to OpenTable to make a reservation.

4. It has a friendly wait staff. The savory menu may lure you in, but the impeccable service will keep you coming back. Have a question on the menu? The wait staff, many of whom is Chinese, is approachable and knowledgeable and can help you decide on some dishes.

5. Don't miss the terrace. During the spring and summer months, the Chicago restaurant opens its outdoor terrace, packed with guests admiring the spectacular view of the Magnificent Mile and soaking up the warm weather.