What are the best attractions in Hong Kong?
Answers from Our Experts (4)
Hong Kong is renowned for its neon intensity, and it is the visible glow of the city's tangible urban energy that proves so addictive. But it is a city of contrasts, and the little-known fact that it is 70 per cent green means it has plenty of contrasting countryside, while sandwiched between the two it is possible to stumble over some particularly charming village-like districts.

Neon Views
The Peak is one of Hong Kong's most popular tourist sites, and a fantastic way to orient yourself. The overview through the skyscrapers towards Victoria Harbour and, on a clear day, over Kowloon to Lion's Rock puts this relatively small CBD and its surroundings into perspective. Arrive late afternoon and watch the sun go down and the lights blaze out. Hike there by following the leafy Morning Trail above Western District to avoid queues at the Peak Tram.

Green countryside
Head out to Sai Kung in the New Territories, a green haven set between the mountains and a calm harbour. Take provisions and a tent, and hike or speedboat from there around the coast to Tai Long Wan beach for a weekend's camping, with day expeditions to climb Sharp Peak and surf the challenging waves. (To get to Sai Kunk take the MTR to Choi Hung and then jump on the 1A minibus. Negotiate a speed boat from the pier or taxi to Sai Kung Country Park to start the hike.)

Urban village
Sheung Wan, just west of Central, is becoming more and more gentrified, but it is still a district of narrow lanes, street side cafes, art spaces and restaurants that tempt Centralites out of their comfort zone. Start on Tai Ping Shan Street and take detours into Sai Street, Tung Street and Ladder Street. Check out Konzepp for cool everyday items, Cafe Deadend for alfresco coffee and The Cat Street Gallery for inspiring art.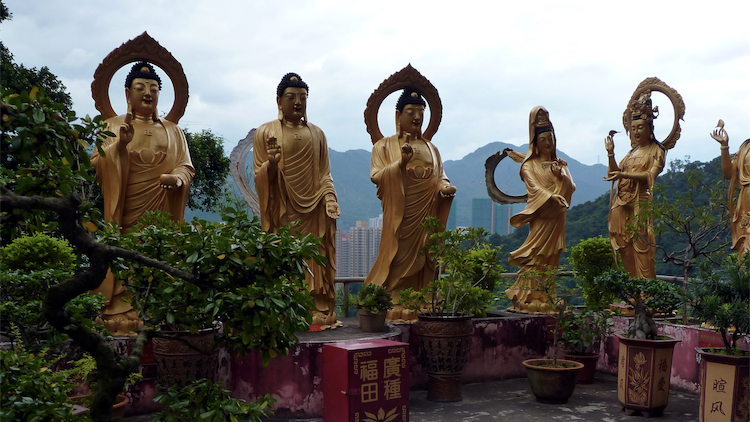 Ten Thousand Buddhas Monastery. Photo by Joey Ewen.
There are plenty of sights to see in Hong Kong, from the historical to the glitzy, but out of the wealth of options there are a few that you shouldn't miss:

Street markets: From the Flower Market and Goldfish Market in Mong Kok to the nighttime Temple Street Market lined with dai pai dongs (old-school local eateries, often with street-side seating) and fortune tellers, there are all sorts of street markets in the city. Pick up a souvenir or two and practice your bargaining skills; and even if you're not in the mood for shopping, they still make for an interesting experience.

Tai O: Nicknamed "Venice of the East", Tai O may be a little out of the way (two hours if you take the train and then a bus), but the waterside village is one of the last few remaining spots that preserves Hong Kong's history as a fishing village. In addition to being peaceful with gorgeous views, it's also home to the Tai O Heritage Hotel, a market, and plenty of fresh local food.

Ten Thousand Buddhas Monastery: While not technically a monastery, as no monks live there, the five halls showcase beautiful architecture and, as the name may suggests, almost 13,000 buddha statues in various sizes.

Within the limits of Hong Kong Island, it's not a matter of sightseeing so much as observing and absorbing the sights, sounds, and smells of daily life. But once outside the city, there are a few sites not to be missed.

Tai O This small fishing village on the Western side of Lantau, sometimes called the "Venice of Hong Kong", offers a welcome view of what life was like pre-colonization. A full day can be spent wandering through the streets and canals and sampling the street food, which is some of Hong Kong's best. The pang uk, stilt houses, are built in an open plan that provides a real glimpse into daily life. You can also take a little boat out in the ocean to look for white dolphins. Don't miss the "Chinese pizza"—more like an omelet, but it's delicious.

Tung Chung/ Big Buddha Skip the long line to the peak tram, and head instead to Tung Chung where you can wait on a (slightly) shorter line to board the Ngong Ping cable car, which will whisk you high above the cloudy green hills of Lantau and deposit you at the foot of an 112-foot high Buddha. Although the Buddha is only 20 years old, the breathtaking serenity of his face is timeless.

Street Markets
No where is Hong Kong's hustle and bustle more pronounced than in its many street markets. Even if you're not in the market for tropical birds, goldfish, or jade, the markets are a great place to practice your bargaining skills and pick up a souvenir, like a personalized chop stamp. Jordan's Temple Street Market is lined with delicious and raucous al fresco eateries (dai pai dongs), so choose one for dinner and tuck in.
Victoria Peak
If you do one thing in Hong Kong, head up to the Peak for fantastic views over both the north and south side of Hong Kong Island and, on a clear day, across to Kowloon and the hills beyond. Part of the fun is getting there: The Peak Tram, a funicular railway in operation since 1888, is the way to go.

Lantau Island and the Big Buddha
Lantau offers plenty in the way of hiking trails, and the fishing village of Tai O certainly merits a visit, but the island's biggest attraction is the 34-meter, 280-ton bronze Buddha that sits above Ngong Ping village. The neighboring Po Lin Monastery is worth exploring, too, though you may leave thinking that the road to enlightenment is paved with souvenir shops. To get there, either take a ferry from Central to Mui Wo, where you can have lunch by the water before catching a bus or taxi up to Ngong Ping. Or if you're brave, take the Ngong Ping 360, a hair-raising gondola ride that carries riders over Tung Chung bay and drops you (almost) at Buddha's feet.

Street Markets
If Hong Kong starts feeling like one giant, air-conditioned mall, visit one of the many street markets for a dose of local life and culture. The Temple Street night market in Yau Ma Tei is among the most lively, selling all manner of food and trinkets (and jade of dubious purity).

Victoria Harbour
One of the best ways to take in Hong Kong's extraordinary skyline is a cross-harbour trip on the Star Ferry. For extra glitz, aim to be on the Kowloon side at 8 p.m., when the towers on the Hong Kong side put on a nightly choreographed light show.