What are the best restaurants in Hong Kong?
Answers from Our Experts (5)
I'm a big fan of a Korean restaurant called Kaya. I just love Korean food. I'm one of those crazy people — when I visit a different country I always insist on eating the local stuff. Even when I went to Cambodia, I insisted on going to a back alley and going to a dump of a place to eat local food. I just like all types of cuisines.
I like Sang Kee, which is honest Cantonese food. I order the chicken prepared with spring onions. There is Da Domenico, which is Italian, and has great grilled calamari. Then, there's Spices; it's an Asian restaurant — a mixture of Thai and Vietnamese. It's in Repulse Bay and offers alfresco dining, which is very pleasant, especially on a sunny day. I like to get the crabmeat salad with avocado.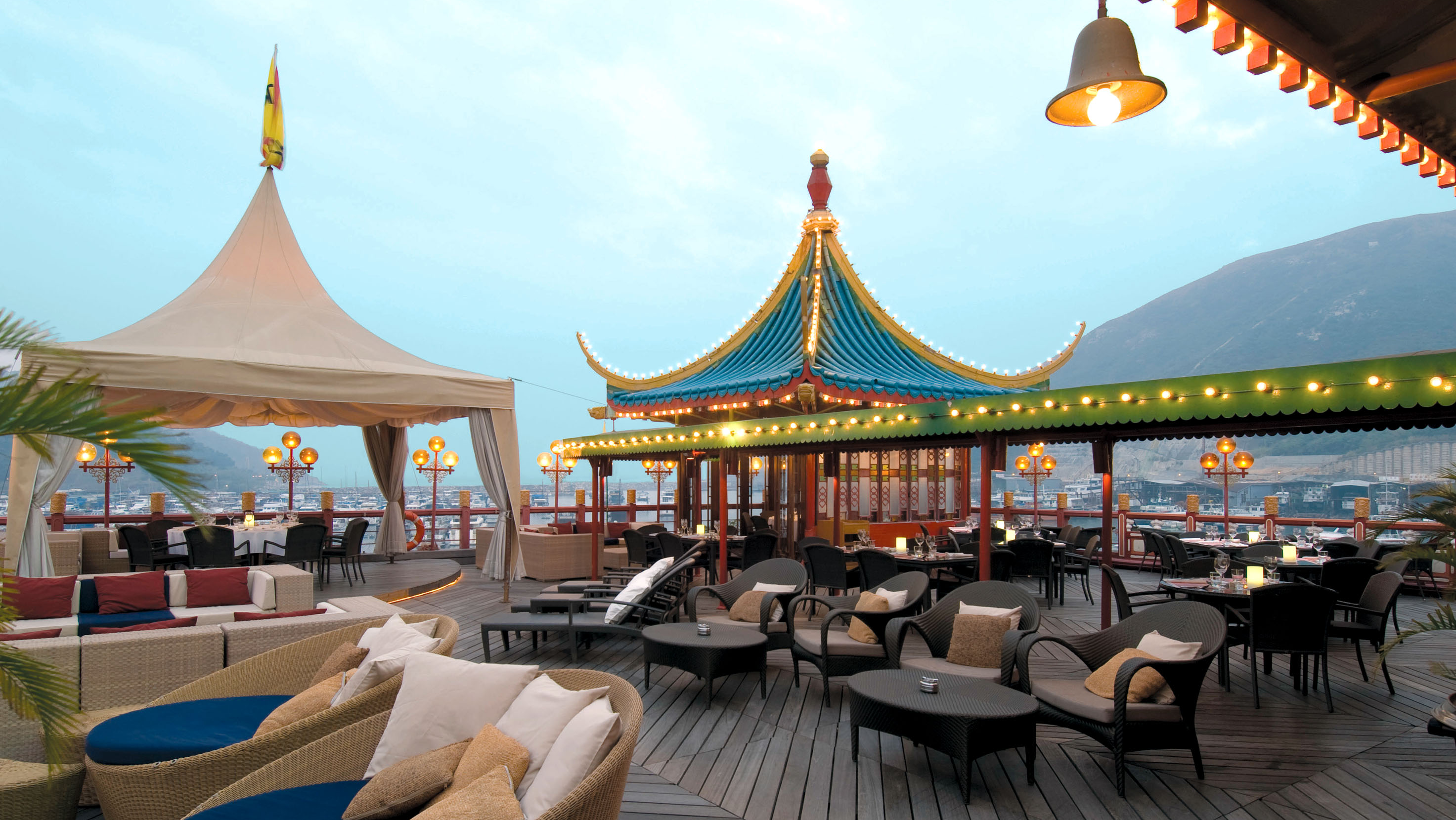 Courtesy of Cafe Deco Group
With over 15,000 dining establishments in the city, you'll have more than enough to pick from no matter what you're in the mood for; the difficulty here might be picking a restaurant to begin with! To help you out, here are just a few of the best spots Hong Kong has to offer:

Best Brunch: As its name suggests, Top Deck (pictured) is located at the top of the Jumbo Kingdom collective of floating restaurants in Aberdeen. Serving a combination of Western and Asian fare, the 9,000 square foot al fresco space is well-known for its weekend champagne brunch.

Best American: ...Cajun food, to be specific. Magnolia is a private kitchen where all reservations need to be pre-booked; guests are ushered into a sitting room for cocktails and canapes before being seated in a homey dining room where they'll enjoy a multi-course menu of offerings from gumbo to barbequed ribs to pecan pie. Feel free to BYOB, as there is no corkage fee. Parties of ten or more can enjoy a private room.

Best Hot Pot: Megan's Kitchen is a cut above other hot pot joints with its innovative soup bases — including the likes of tomato and crab soup with a souffle finish — and wide selection of seafood and beef; in fact, it offers different cuts of beef from all over the world. Other Cantonese dishes are on offer as well as wines and liquors from China and Japan. The space leans towards the western-inspired in terms of decor, and includes several VIP rooms.

Best Cantonese: Hong Kong gourmands all swear by Lung King Heen, a luxurious table with a great view at the Four Seasons. Expect all the classics like dim sum and mango pudding, along with a couple of western twists, all made with the very best of ingredients.
Keeping up with the Hong Kong dining scene can feel like sport sometimes. Restaurants open and close constantly, trends are embraced with fervor and then forgotten. But there are some restaurants that manage to stand out from the crowd, that live up to the hype, or simply transcend it with consistently excellent cooking. Here are just a few:

The Chairman Elegant and understated, this Cantonese table in Central carefully sources their ingredients and takes no short cuts in the kitchen. It shows.

Amber At this gorgeous restaurant in the Landmark Mandarin Oriental, Chef Richard Ekkebus offers menus that are a declension of the season, showcasing the most pristine ingredients (like his signature sea urchin). It's hyper-modern, but firmly grounded in French tradition.

Lung King Heen For deluxe dim sum and other fine Cantonese fare with a harbour view, visit this award- winning table in the Four Seasons.

Yardbird HK has plenty of yakitori joints, but none quite like this packed, no-reservations Sheung Wan spot, where every part of the chicken is deliciously skewered. Don't miss the Korean Fried Cauliflower -- the best thing to ever happen to this humble brassica. Service is all-pro, too.

Yin Yang Sourcing everything from her very own New Territories farm, Chef Margaret Xu could be called the Alice Waters of Hong Kong. Her cooking is personal, and the setting -- in a protected Wan Chai low-rise -- is charming.

8 1/2 Otto e Mezzo Truffle-loving Chef Umberto Bombana is Hong Kong's reigning king of high-end Italian.
Picking the best restaurants in Hong Kong is like picking the best beaches in Hawaii: they are numerous, debated, and (unlike the beaches) they are multiplying.

Much of what makes Hong Kong so enjoyable is the gusto with which its residents approach their food. Hong Kongers are foodies at heart, and no trip to Hong Kong is complete without a hearty sampling of what the city has to offer.

But where to begin? To make it easier, I've divided up some favorites into three price ranges.

Glam
Amber Innovation, style, and substance make Richard Ekkebus's impressive menu the most celebrated in the city. "So inventive it borders on otherworldly."

L'Atelier Joel Robuchon Yes, it's a global chain, but this is as sexy as French cuisine gets. If you're tight on time or money, skip the restaurant and head to the Salon de Thé for the world's best baguette sandwiches

Café Grey New York's loss is Hong Kong's gain. Perched atop Hong Kong's hippest hotel, The Upper House, Café Grey serves up bold flavors and bombastic desserts.

Lung King Heen The world's sole Michelin three-star Chinese restaurant is largely agreed upon as Hong Kong's best. Luxurious but accessible (think simmered lobster in champagne sauce) and with spectacular dim sum. Plus, it's not as expensive as you might expect.

8 ½ Otto e Mezzo Master chef Umberto Bombana delivers sublime Italian perfection in the form of handmade pastas, white truffles, and haute ragus.

Relaxed
ABC Kitchen The last place you'd expect to find gourmet French fare is in this Sheung Wan cooked foods market, but there it is. One of Hong Kong's best hidden gems.

The Chairman Beautifully prepared home-style Cantonese, without the MSG.

Oolaa If you're missing a dish from home—nicoise salad, eggs benedict, pancakes—this Aussie eatery does it best. The burgers are enormous and impressive.

Peking Garden The perfect place to sample succulent Peking duck while watching the chef hand-pull traditional noodles.

Posto Pubblico A New York-style trattoria with a focus on fresh, locally-grown produce and house-made cheese. The burrata is not to be missed.

Yardbird Hipsters flock to Sheung Wan to feast on skewered chicken and vegetables. No reservations, so expect a merry wait by the bar.

Affordable
Crystal Jade La Mian Xiao Long Bao The name might be a mouthful (just call it 'Crystal Jade') but it's nothing compared to this bustling chain's signature soup dumplings. The menu calls them 'a flavourful explosion' and we have to agree.

Din Tai Fung This Taipei transport is universally beloved for its dim sum.

Rainbow Seafood If you're willing to take a (free) ferry to Lamma Island, you'll be rewarded by fabulously fresh seafood you can choose from the tank.