What are the five best things to do with kids in Hong Kong?
Answers from Our Experts (3)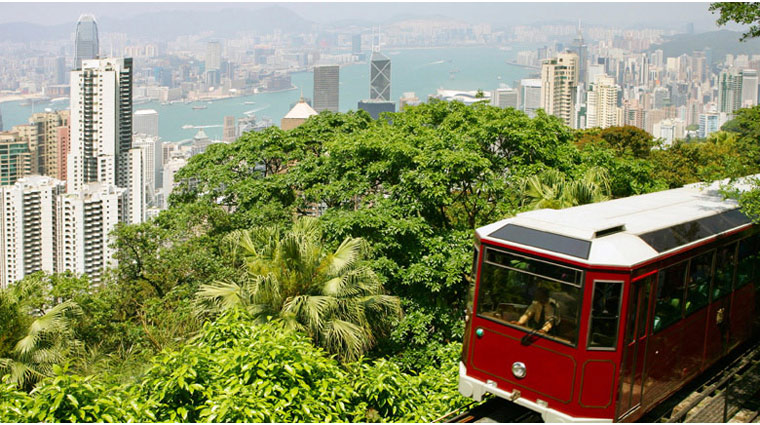 ©iStock/oksanaphoto
There is plenty of wonderment to be found in Hong Kong — something that you and your kids can appreciate equally. From Ocean Park theme park and Hong Kong Disneyland to Ngong Ping 360 and the Peak Tram, you'll reach new and thrilling heights together in this Southeast Asia metropolis.

1. Opened in 1977, Ocean Park, a giant homegrown theme park, has survived the competition from Hong Kong Disneyland since the latter's arrival in 2005. Kids will love the park, which features rides that range from thrilling ones like the aptly-named Hair Raiser roller coaster, to gentle kid-friendly options like the Frog Hopper and Clown A Round. Save time to explore the park's many exhibits, including giant pandas An An and Jia Jia, and rare Chinese sturgeons, and don't forget to take advantage of the cable car system that links the Lowland and Headland sections of the park; it's a perfect way to give your legs a rest and enjoy amazing views of the South China Sea.

2. Hong Kong Disneyland is the famous Asian outpost of the happiest place on earth, and has all the familiar attractions (It's A Small World, Mad Hatter Tea Cups, Space Mountain), plus a chance to meet Mickey and friends. There are seven "lands" built into this enormous park: Mystic Point, Grizzly Gulch, Toy Story Land, Fantasyland, Tomorrowland, Adventureland and Main Street, U.S.A. Getting to the park is easy, as there is a dedicated MTR line that will take you right to Mickey's front door.

3. Ngong Ping 360 knocks your average theme park zip line ride out of the water. The 3.5-mile cable car journey allows you to see Hong Kong International Airport, South China Sea and the Tian Tan Buddha Statue from a whole new vantage point. Both you and your kids will let out plenty of "oohs" and "aahs" as you glide above the rolling grassy slopes of North Lantau Country Park. Most of all, the 25-minute ride provides a positively serene escape from the bustling city.

4. Hop aboard the Victorian-era Peak Tram for the scenic ride to the top of Victoria Peak. One of Hong Kong's main tourist attractions, Peak Tram inspires long lines daily. The tram starts on Garden Road and climbs ore than 1,200 feet to the Peak. In some parts, it's so steep, you'll feel yourself tipped back almost flat on your back. Tip: The best views are on the right-hand side near the front.

5. Line up on the waterfront at Tsim Sha Tsui with the many locals who come to watch A Symphony of Lights. This 15-minute long light and music show, which begins each night at 8 p.m., is a free spectacle that is fun for the whole family. After the show, explore the famous Avenue of Stars, Hong Kong's version of the famous Walk of Fame in Hollywood.
Peak Tram A must for visitors of any age, a ride on this steep funicular railway will thrill all but the most jaded teenager.

Ocean Park Perched on peninsula overlooking the South China Sea, this theme park features rides as well as animal attractions and shows.

The Beach Hit one of the south side beaches to beat the heat. Shek O and Big Wave Bay are good choices, with clean sand, lifeguards (March-November), and plenty of amenities.

HK Science Museum and HK Space Museum Most of the permanent exhibitions the Science museum are interactive, designed specifically for kids; and the Space Museum has an Omnimax theater and a massive planetarium.

Ngong Ping 360 This gondola ride goes from Tung Chung up to the famous Big Buddha, crossing open water and the hills of Lantau Island along the way. For the biggest thrill, get tickets for the Crystal Cabin, which has a transparent floor.

When all else fails, there's always Hong Kong Disneyland.
I visited Hong Kong for the first time with my family when I was twelve, and I thought I'd found paradise. It's an amazingly kid-friendly city: clean but busy, exotic but accessible, and with a thriving tourist scene that's not built around the endless museum/monument procession that children often find dull.

Here are some ideas to keep the tots occupied:

Ocean Park
Faced with the Ocean Park/ Disneyland dilemma? Go with Ocean Park. Unlike it's international counterpart, Ocean Park has a homegrown charm that's hard to find elsewhere. The animals are a treat (think pandas, seals, and an amazing jellyfish aquarium), and the rides provide world-class thrills. Plus, it's hard to think of a more scenic amusement park, perched just so on a cloud-wreathed cliff. The park is divided into two; each part is accessible only by a cable-car with a breathtaking view of the ocean.

Shek-O/ Stanley
Whatever the continent, kids love the beach. Luckily, Hong Kong has some great, accessible options. On a sunny day, head to Shek O (on the south side of Hong Kong Island) in the morning to soak up some rays, rent a kayak, or test the surf. Then take a taxi to Stanley, where you can eat lunch al fresco, next to the South China Sea.

Hong Kong Botanical Gardens
If you're tight on time, you need not go all the way to Ocean Park to escape the heat or get a glimpse of nature. The city's own Botanical Gardens are a peaceful place to spend an afternoon gazing at the gibbons, flamingos, sloths and anacondas dozing in their enclosures. You can easily pass an hour watching the baby orangutan twins tumble around.

Markets
For a taste of Hong Kong's hustle and bustle, nowhere beats the Kowloon markets. Your kids will have a ball ogling the merchandise—whether it be tropical birds, flowers, jade or goldfish (try to resist the urge to take one home.) For a souvenir, have chop made with your children's name, or have it painted in Chinese calligraphy. Sheung Wan's Cat Street is a quieter option for souvenirs, but for sheer exoticism, the Bird Market is not to miss.