What are rooms at Altira Macau like?
Answers from Our Experts (2)
You'll feel like you're staying at a cozy, contemporary dream apartment in Altira Macau's spacious, well-designed guestrooms, suites and villas. Plush carpeting and subtle accents such as soft throws help make these rooms feel like a home away from home, though not many of us have homes with stunning panoramic views of the South China Sea across the Macau Peninsula through floor-to-ceiling windows.

Offering 1,377 square feet of space, premier suites at this Forbes Travel Guide Five-Star hotel are huge. Each of the 16 Corner Suites have a separate bathroom, reading room and bathroom, as well as a beautiful wall of windows that curves with the shape of the hotel and affords unobstructed views of the sunset.

At 2,755 (one bedroom) and 3,982 (two bedroom) square feet in size, the luxury Macau hotel's eight decadent villas are all more than twice the size of the already large suites and come with a full kitchenette, lounge area, walk-in closet and 24-hour butler service. Bathrooms are big enough for cartwheels and, in fact, have their own treadmill, Jacuzzi and steam room.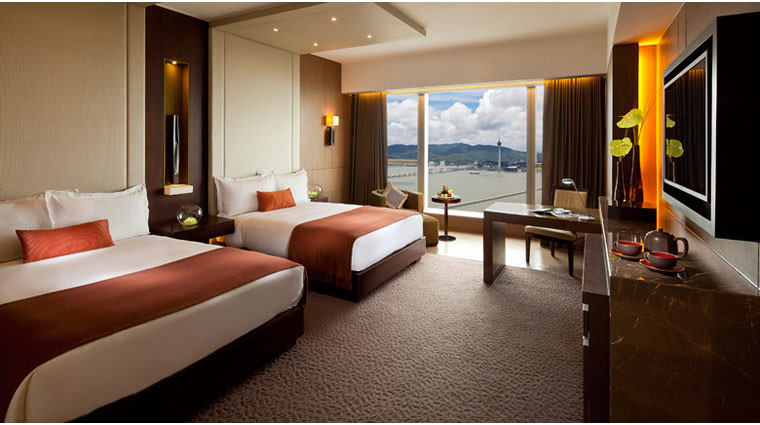 © AltiraMacau/Melco Crown Entertainment
Our rooms at Altira Macau are designed to provide our guests with the perfect respite from their busy and sometimes chaotic everyday lives. We value special attention to detail, and make sure that our rooms reflect that belief. The waterfront view rooms are the perfect balance of comfort and contemporary style. Soothing creams and rich chocolate brown colors accent the rooms' sleek design, making it a warm and inviting environment. It's no secret that the focal point of the rooms is the view from the floor-to-ceiling windows overlooking the Macau peninsula and the South China Sea. We hope that our guests feel calm and relaxed as they wake up in the plush beds and look out at unobstructed views across the water.