What are the best amenities at Altira Macau?
Answers from Our Experts (2)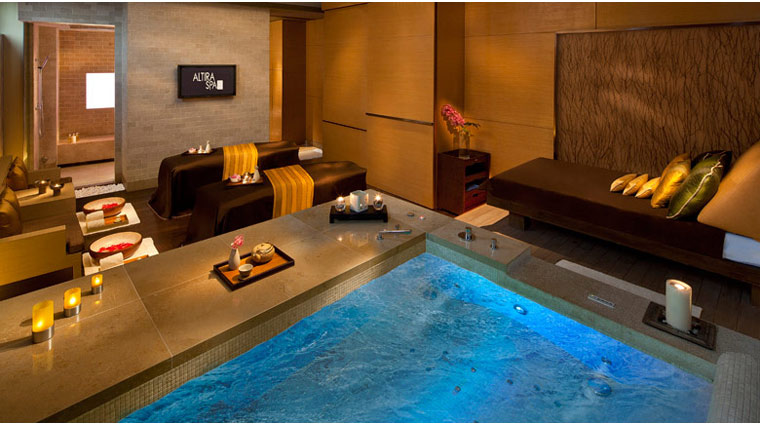 © AltiraMacau/Melco Crown Entertainment
Altira Macau is a Forbes Travel Guide Five-Star hotel and you can feel it. Here are a few of the amenities that make it like no other hotel experience in Macau:

1. The giant, circular, stone Japanese tub positioned with views of both the water and the television is a showstopper.

2. We loved the luxurious Aigner bath products that came with the room and the turndown service.

3. The indoor infinity pool looking out to the sea has been rated one of the best hotel pools in the world.

4. The spa at this luxury hotel is one of the best in Macau, and one of Forbes Travel Guide editors' favorite spots in the hotel.

5. The fact that the hotel will cater to your every whim is an amazing bonus. Honestly, your wish is their command — especially if you're a high roller!
There are many over-the-top amenities at Altira Macau, but these are the five best:

TVs. We really tried to think of everything when designing our guestrooms at Altira Macau. The result? Super sleek, flat-screen TVs in the bathrooms so that you can watch while getting ready for a big night out or a day of sightseeing. The TV is perfectly placed in front of the spacious bathtub, so if you need a bit of a respite during your stay, just fill up the tub, grab the remote and relax to your heart's content.

KEF Sound System. Our large and open guestrooms lend themselves well to sound. Therefore, we have equipped our rooms with revolutionary KEF sound systems so that our guests can experience the best sound technology. The sleek, modern sound systems blend perfectly with the contemporary and luxurious furnishings in the rooms.

Bathtubs. We really, really encourage you to relax during your stay with us at Altira Macau. To ensure you kick up your feet a little bit, we have installed gorgeous, stone circular bathtubs in all of the guestrooms. The tubs, paired with the flat-screen TVs installed in the walls of the bathroom, give you the ultimate environment to unwind.

Pool. Altira Macau's indoor infinity-edge pool is a sight to be seen. (The site outside the windows isn't too shabby either.) While you're taking a dip in the gorgeous pool, don't forget to pay attention to the fantastic vistas of the Macau peninsula. We promise, the view won't disappoint.