What restaurants does Altira Macau have?
Answers from Our Experts (2)
Altira Macau has four signature restaurants as well as a 24-hour diner in the casino, so you'll never have to leave the hotel to satisfy your hunger.

A popular lunch spot for government officials and area socialites, Ying offers a modern twist on traditional Cantonese favorites in a relaxing atmosphere. Seasonal set lunches, which can include everything from poached scallops to stir-fried Wagyu beef, are available for HK$1,078 (US$139) for up to four people and HK$1,541 (US$199) for up to six.

Kira fuses Japanese and pan-Asian flavors using ingredients from around the world. The evening all-you-can-eat menu is highly recommended and costs HK$570 (US$73) per person, or HK$473 (US$61) without free-flowing wine, beer, and sake.

Set dinners (HK$388, US$50) are also recommended at this Forbes Travel Guide Five-Star hotel's Tenmasa, the first branch outside of Japan where you can sample the light, healthy tempura that's such a big hit at their Tokyo location. Fresh ingredients for Tenmasa's exquisite cuisine are flown in from Japan most days of the week.

Aurora is the luxury Macau hotel's exquisite fine-dining Italian restaurant. Here you'll be treated to an extensive wine list, homemade pastas, fresh seafood and decadent desserts.

Finally, Monsoon is Altira Macau's 24-hour Asian café that's located in the heart of the casino. Try the Afternoon Tea Set, served daily from 3 to 6 p.m., which includes a waffle, choice of tea or coffee, and one savory main dish for HK$37 (US$5) per person.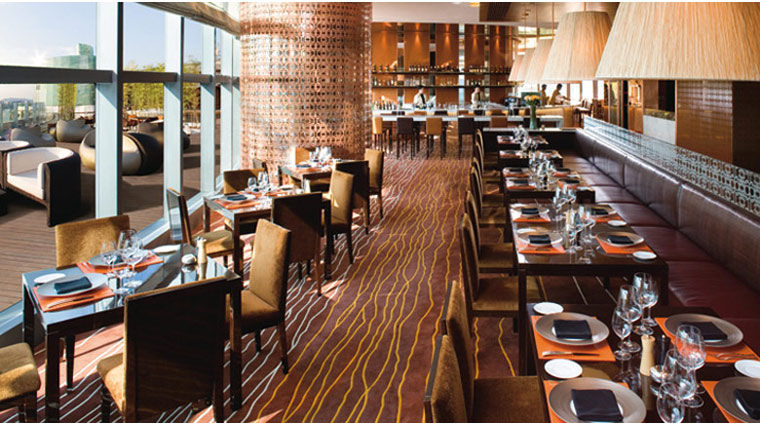 © AltiraMacau/Melco Crown Entertainment
At Altira Macau, we play host to a bevy of restaurants, with different cuisines, themes and atmospheres. Aurora restaurant is our authentic Italian restaurant, with dishes characterized by a diverse range of fish, seafood, and Mediterranean traditions. Chef Michele dell'Aquila found inspiration for his menu in the Puglia region of southern Italy; dine on traditional Italian fare as you sit at the outdoor terrace looking out across the stunning view of the sea. Kira focuses on traditional Japanese cuisine with a modern twist. Set in a dramatic space designed by Hashimoto Yukio and David Sung, the restaurant features theatrical presentations — a circular food stadium serves as the centerpiece for displays of meat and fish. There is an outdoor area, a sushi and sashimi bar, and two teppanyaki grill bars so our guests can enjoy a variety of dining experiences. Award-winning chef Lei Su Wang stirs up traditional Cantonese food at Ying. The delicate décor features a subtle use of color, beaded curtains, silk screens and other accents designed to create an intimate dining experience. The restaurant is known for its dim sum, so be sure to peruse the menu and sample this signature food. If you are a fan of tempura, look no further than Tenmasa, also known as the "taste of Tokyo." The original location is in Japan and the restaurant expanded into Altira Macau. Here, chefs specialize in the art of preparing tempura by sensing the sound of the frying and the vibration of the oil. The décor is traditionally Japanese, with tatami seating, private dining rooms and an exclusive sushi and sake bar. Monsoon is our more casual restaurant located on the casino's third floor, focusing on Hong Kong and Macanese favorites such as barbequed meats, fried rice and congee in addition to other Asian dishes.