What do we love most about Acqualina Resort & Spa?
Answers from Our Experts (2)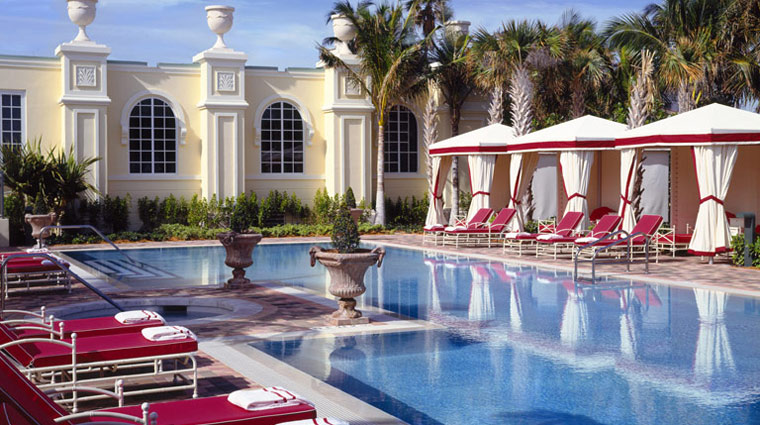 ©AcqualinaResortAndSpa
The Forbes Travel Guide Five-Star Acqualina Resort & Spa sits on its own private beach lined with comfy red lounge chairs, where all you have to do is raise a flag when you need water, lunch, a fresh towel. Here's what else we love about the property:

1. The spa. In addition to top-notch treatments, Acqualina Spa by ESPA features a crystal steam room, cedar sauna, experience showers and a lovely outdoor pool. Save time to unwind in the relaxation room, which is suffused in a soft red from tinted lights and has eight large lounge chairs topped with soft blankets.

2. The food. Costa Grill provides light and tasty bites while you're kicking back at the beach (think: blackened fish tacos and a pitcher of white sangria). The Forbes Travel Guide Five-Star hotel's AQ by Acqualina features modern Mediterranean cuisine with an Italian-inspired menu by Il Mulino New York in a relaxed but elegant setting. For another dinner option, there's rich Italian cuisine from Il Mulino New York.

3. The kids' program, AcquaMarine. Acqualina's super-cool (and free) marine biology-based program keeps kids busy with activities that are both fun and educational. Kids learn all about the Coast Guard during a beach boot-camp relay and kayak rescue mission, experience what it's like to be a lifeguard, learn the science behind waves and lots more. Meanwhile, you get some time to hang solo at the beach or spa.

4. The outdoor space. We love the resort's three heated pools, especially the adults-only pool (no children under the age of 18 allowed). Cabanas are plush and comfortable and the resort's private beach has luxe loungers with big umbrellas. Service is attentive and the beach here is the opposite of South Beach madness.

5. The rooms. At the luxury hotel, all rooms offer plenty of space and the suites are huge. The one-bedroom oceanfront suites are more than 1,400 square feet and come with a king-size bed, separate living room, full gourmet kitchen, two flat-screen TVs and a huge bathroom.
Acqualina Resort & Spa is a very special property. From the moment you walk through the door, you notice the heart and soul of the staff in every detail of your stay, making your experience all the more personal. One of the most valuable characteristics of Acqualina is our personalized guest service where the hotel feels like a second home and the staff feels like a family.

A spectacular gem exclusive to Acqualina is our beautiful location. Acqualina is on five stunning beachfront acres that make the perfect haven for couples and families, offering an intimate experience with expansive and luxurious amenities. Our resort's signature is its outdoor setting, which offers three seaside swimming pools. The pools also sit next to green grass. Our resort is open to the ocean unlike any other Florida resort offering.

At the heart of Acqualina is Acqualina Spa By ESPA, another one of our personal treasures. Acqualina Spa by ESPA is the first branded ESPA spa in the United States and boasts more than 20,000 square feet of oceanfront space. Guests are offered personalized ESPA treatment journeys based on their specific needs with several different treatment options to indulge in. All of our guests are encouraged to arrive at least one hour before their treatment time to unwind in the relaxation lounge and heat experiences.

In addition, Acqualina is very family oriented. We have made our children's marine-biology-inspired program, AcquaMarine, available to all hotel guests on a complimentary basis. AcquaMarine is open every single day with special activities, especially during holiday seasons. It is a unique, engaging program designed for children ages five to 12 years old. Kids take part in a number of beach and aqua adventures while learning about water-related subjects and having fun.

I am most of all proud of our staff and its continuous dedication to provide our guests with a personalized experience. Together, we continue to break boundaries when it comes to our achievements and successes.

Whether traveling for business, a romantic escape or for quality time with the family, Acqualina is the perfect beachfront location, where our award-winning children's program, AcquaMarine; acclaimed Acqualina Spa By ESPA; Italian restaurant Il Mulino New York; world-class guest service; and the stunning Atlantic Ocean coastline are all at your fingertips.