What are the best things to do on a romantic trip to Napa?
Answers from Our Experts (1)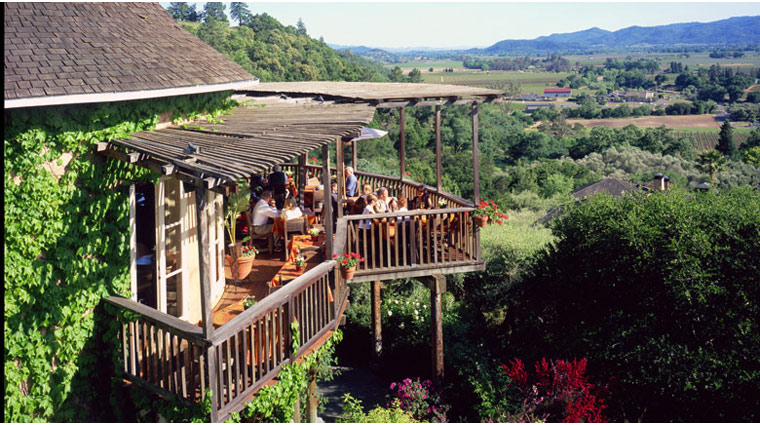 ©Auberge du Soleil
Honeymooners or couples just looking for a getaway frequent Napa, and it's easy to see why. We can't think of anything more romantic than trying dozens of different wines in lush California. Visit the oldest winery in Napa, Beringer, or one of the most all-around fantastic, Rubicon. Stay at the serene Auberge du Soleil, get brunch at Bouchon and check out Ca' Toga Art Gallery to see Italian muralist Carlo Marchiori's work.

1. Beringer has welcomed guests since 1934, making it the oldest continuously operating winery in the Napa Valley. The comprehensive tours include a walk through hand-dug, aging tunnels, as well as informative talks about how wine is made and aged - followed, of course, by wine tasting.

2. If you only take one winery tour with your special someone while visiting Napa, make it Rubicon. The knowledgeable and engaging tour guides will fill you in on how Francis Ford Coppola came to own this winery, and how he brought it full circle. It's the kind of story that makes movie magic, but this vineyard has no Hollywood flash. While you can easily envision Coppola sitting at one of the outside tables puffing on a cigar, the vineyard, which looks like it was transported from Italy, is where the famous director quietly raised his family outside of the spotlight, and where he and his wife still reside. You may also be surprised by how good the wines are, particularly the Rutherford Edizione Pennino Zinfandel (the label has a picture of Italy and the Statue of Liberty, a homage to Francis' grandfather) and the Cask cabernet sauvignon, a tribute to the stylized cabernets of the previous owner.

3. This sun-drenched sanctuary of Auberge du Soleil is perched on a quiet, 33-acre hillside olive grove in Rutherford. What once began as simply a Provence-inspired restaurant in 1981 is now a full-fledged sanctuary. Luxurious touches include Italian linens, flat-screen TVs, wet bars with stocked refrigerators (full-sized in suites), espresso machines, large soaking tubs, CD players with a choice of CDs, wine, daily fresh fruit and a personal welcome note. Be sure to visit the exclusive Spa featuring Meyer lemon olive oil massages, among other treats, and the indulgent private Melisse Suite. The accommodations portion of the resort was recently gated to ensure maximum privacy.

4. If you can't get into The French Laundry, try Thomas Keller's French bistro Bouchon — a more casual but no less romantic substitute. Like most Napa Valley restaurants, the fare is seasonal, but Bouchon maintains a decidedly bistro flavor, right down to the pommes frites, chalkboard specials and newspaper rack by the nickel bar. You can't go wrong with any of the fresh seafood, and the comfort dishes such as slow-braised pork short ribs and croque madame are especially enjoyable. Desserts include pot de crème and profiteroles with vanilla ice cream and chocolate sauce. Be sure to stop by the next-door Bouchon Bakery because the éclairs and macarons are spectacular. Take a walk after brunch and peruse the shops, galleries, and, of course, the tastings. A stroll in Napa Valley is as quaint and intimate as it gets.

5. See the works of Italian muralist Carlo Marchiori, which include ceramics, tiles, paintings, sculptures and furniture in Neo-Classical and Baroque styles at Ca' Toga Art Gallery.