What are the bathrooms like in the rooms at The Peninsula New York?
Answers from Our Experts (1)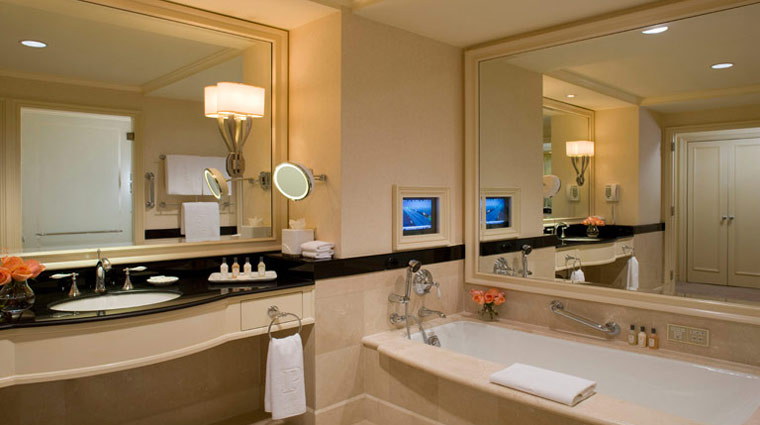 ©ThePeninsulaNewYork/VFMLeonardoInc
The bathrooms at The Peninsula New York are so spacious, you and your traveling companion can comfortably get ready for a night out at the same time. You'll find a separate shower and bathtub, along with a toilet in its own room and a large vanity mirror. The walls, floors and bathtub are bathed in white marble; the black granite countertop with Kohler fixtures offers a nice contrast. When you take a shower, you can choose between two types of heads, including a handheld sprayer. Though if you want to rest under the relaxing shower waterfall, there's a granite corner bench inside the stall.

You'll have plenty of space to store your shampoo and bathroom necessities from home, though you should try out the Davi bath products made exclusively for the Forbes Travel Guide Five-Star hotel from famous wine producer Robert Mondavi. Bottles of shampoo, conditioner, body lotion and shower gel will be displayed on the shelf inside the shower stall as well as on the ledge of the bathtub. The toiletries have a soft floral scent and the quality is exceptional. In fact, the lotion is so thick it almost feels like softened butter, but doesn't leave any residue. There also will be a selection of bath salts, mouthwash, a hairdryer, a shaving towel and shaving and sewing kits. Bath towels are conveniently placed within close reach of the shower. In the wintertime —cold season — you'll even find hand sanitizer to take with your as you explore the city.