What are the five best things to eat and drink at Trump New York?
Answers from Our Experts (2)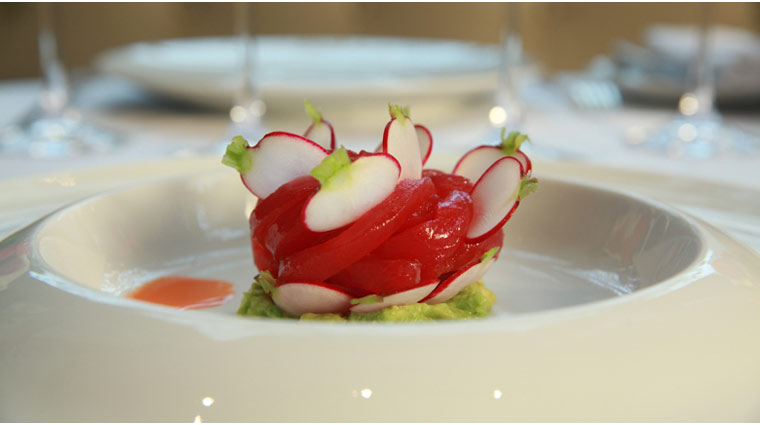 ©FiveStarTravelCorporation
With one of the best restaurants in the city — Jean Georges — inside Trump International Hotel & Tower New York, it would be difficult to find a meal that's less than superb at this Forbes Travel Guide Five-Star hotel. But to experience the best of the best, here are five things we think you'll remember long after you've paid the check:

1. Foie gras brûlée. Served with slow-roasted strawberries and aged balsamic vinegar, just savor that list of ingredients, they're as decadent as they sound. At Five-Star Jean Georges, you should expect nothing less than the best French cuisine on this side of the pond.

2. Tuna tartare. Prepared with avocado, spicy radish and ginger marinade, this appetizer available from room service and Nougatine offers a fresh blend of flavors. The fat from the avocado nicely cuts the heat from the radish and pairs well the refreshing taste of ginger.

3. Any cocktail. While you're at Nougatine, order up a refreshing adult beverage, like the vodka-thyme lemonade or fresh fig martini. The bar staff's creativity, combined with fresh ingredients and top-shelf liquors, make for flavorful cocktails you won't find anywhere else.

4. Kobe burger. Meat-lovers will celebrate the Kobe beef burger available through room service. Tender, juicy and cooked to perfection, the burger uses the Japanese meat famous for its marbling and versatility.

5. Red snapper. The sautéed red snapper with asparagus and shiitake mushrooms at Nougatine combines the fruits of the sea and the soil to make a simple, yet filling dish that will leave the seafood lover wanting more.
The five best things to eat and drink at Trump International Hotel & Tower are the tuna tartare, egg caviar, cucumber martini, Dessert Fourplay and handcrafted sodas.