What are the best bars in New York City?
Answers from Our Experts (16)
The best bars in New York City are Clover Club, Pegu Club, Mayahuel, Death & Co, Employees Only and Little Branch.
Death + Company is awesome and has always been awesome and seems like it will always be awesome. They're really good at what they do. I think McSorley's Old Ale House is a great place to grab a beer. McSorley's I think is one of the oldest bars in New York, and there's sawdust on the floor and they have two beers on tap — McSorley's lighter beer and McSorley's darker beer. And it's just like a great New York place to be.

And then one thing I actually really love is Shake Shack in Madison Square Park. There's always that huge long line to get food. But there's never that much of a line to get a beer or a glass of wine, and to be able to sit in Madison Square Park. Madison Square park I think is one of the most beautiful city parks in the world, and to be able to sit outside in New York and have a drink is a pretty special thing.
Apothecary is fun. I used to hide out and go to the bar for drinks at PDT. I think the best bar/lounge is at The Bowery Hotel. I think it's so chic.
Angel's Share in the East Village. You walk through a pretty bad Asian restaurant to get there, but then you sit down and there's Japanese cacti in the drinks. It's timeless. I know it's not the newest, but for me, it's just right.
The best bar in New York City is Soho House. I like that chill, relaxed atmosphere. I am not a member, but we have friends who are members and I've been there many times. Soho House is pretty awesome.
My favorite places are PDT and Raines Law Room. They're just really cool bars; they're kind of like speakeasies, and you can really sit down and have a conversation and enjoy amazing cocktails. You're not getting rushed and the places are not that crowded.
I don't go out that much, at least not to the clubs anymore. I like the downtown lounges that serve good drinks like The Double Seven and Electric Room and Avenue.
When somebody wants to go out, they should ask themselves a question: "Am I going out to really enjoy the quality of cocktail, or am I going out to have a good time?" There are all kinds of places that can satisfy both of those.

I like a combination of both. I like my drink to be good and decent, and I like to be pleasantly surprised by what I'm tasting. So PDT (Please Don't Tell) is one of my favorite bars — the attention to hospitality from the people who are operating it is perfect. Another one is Lani Kai — it's a Hawaiian tiki joint owned by one of my friends, Julie Reiner. She just did a marvelous job with the place.

Another one is more of a dive kind of bar called Mother's Ruin. That's where I'm going for a beer and a shot, maybe a Manhattan and good conversation. It's important for me that I have a good time. If I have to be quiet when I'm having a cocktail — let's just say that's not my thing.
If you're downtown, there's The Ten Bells. It's a wine bar that's always got great drinks that it's pouring. In the Union Square neighborhood here, there's a wine bar called Corkbuzz. The food is great and it's always got fantastic wines open. Another one — it's not a dive bar but don't wear a suit to it — is called The Brooklyn Inn. And I just love it because it's probably 200 years old — there's no television. It's just a great place to go with somebody you like to have a couple beers with and a great conversation.
The best bar in New York is on the roof of The James called Jimmy. There's also a new little bar on Houston and Sullivan called Rogue & Canon. There's Bill's Food & Drink, which has been around for years, but it's under new ownership; it's on 54th Street. And Wollensky's Grill has a nice bar. If it's late-night, I'll go to J.G. Melon and have a beer and a burger.
I always meet people at my own, Eataly. The Piazza there is great. If I go out for a cocktail, I'll go to The Peninsula in the summer. I love Bull Bar in Soho. I'm not a big fan of the hipster-bar-chef culture; I'm an old-school-drink kind of guy. And I love to go to The Four Seasons Restaurant.
Normally I like to go to Terroir Wine Bar. They have a late-night menu and a very creative wine list. I also go to the Brandy Library down in TriBeCa and PDT, a cocktail bar.
I really like going the Ace Hotel on 29th Street. They're right next door to The Breslin. The whole lobby is very open. They play DJ music at times. It's a very lounge-y, large, comfortable place with a fireplace; they have two bars. It's not too scene-y, yet you certainly get a feel of New York in that location.

[Hotel] Gansevoort is a pretty cool place to go to, if that's what you're in the mood for, especially on the rooftop. There's an inside and outside — or at least a patio — that includes a pool.

Then for bars, PDT. It's been around for a while and a lot of people know it. It has its reputation and fame, but I still think that's one of the best places you can go to get a cocktail. It's just a really well-made cocktail; I mean, granted, you're going to pay for it. It's seating-only; you can't stand. But it's good if you're willing to wait and you have some money to spend. I love the feel of it when you're sitting down at the bar and just the quality of the cocktail is just that. You understand why you're paying what you're paying for.
Carol Cain, GirlGoneTravel.com
The bar scene in NYC can be as high scale or as casual as you would like it to be. Personally, there are two bar experiences visiting friends enjoy the most: the Irish Pub scene and the Jazz Bar scene.

Irish Pubs

1. McSorley's is as old-school Irish as it gets in NYC. In 1943 essayist Joseph Mitchel referred to it as the oldest bar in the city in his New Yorker and they only started accepting female patrons in the 1970s. With house brewed beers, light and dark, at only $5, this isn't the most upscale bar experience in the city, but it certainly is one to remember.

2. Paddy Reilley's Music Bar offers guests live performances from award-winning Irish bands and musicians, whether traditional or Celtic rock, while serving a hearty pint of Guinness.

Jazz Bar

1. The Village Vanguard which has been a staple in the NYC jazz scene for over 70 years and is where many jazz legends still come to perform.

2. Blue Note in NYC's Greenwich Village is where jazz performers set shop for six-day runs for guests to enjoy. One of the most iconic jazz venues in the city, it is the favorite of celebrities from Liza Minnelli to Stevie Wonders.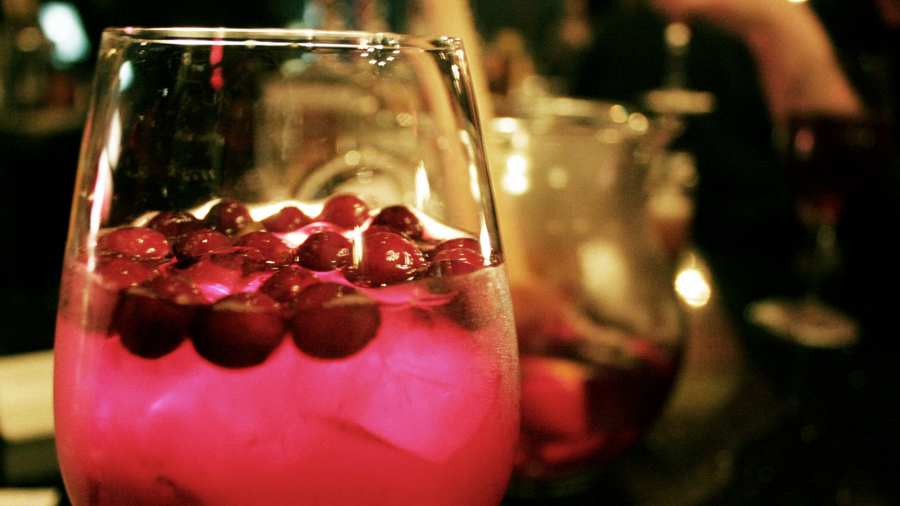 There are so many great bars in the city that you can't throw a penny without hitting one. Of course, some truly shine whether for their innovative cocktails, old-school vibe, or pure cheap fun. Here are four unique places that satisfy my thirst depending on my mood.

1. The Levee: Located in Williamsburg, Brooklyn, where lots of fun and tasty things reside, The Levee is a great place to go for their Sportsman Special with a can of Black Lable and a shot of Evan Williams. After a few rounds of those and Big Buck Hunter or pinball, you won't mind delving into a bowl of their gratis cheese balls. Or, go the personal route and order vegetarian Frito pie and French onion dip.

2. Apotheke: For a craft cocktail made with some of the freshest ingredients around, the Chinatown-based Apotheke is a great place to go. There they serve tasty "prescriptions" like the Harvest of Mexico with roasted corn and mezcal, and the Pigmy Gimlet with kiwi, vodka, cracked pepper, and eucalyptus. Aside from the taste, another great thing about all these drinks is that they are made with herbs and plants grown on their rooftop garden.

3. Fulton Grand: When I am in the mood for a good beer, usually Fulton Grand in Clinton Hill, Brooklyn has what I need. They have over a dozen taps, tons of bottles, and their craft beer selection is constantly changing. The friendly bartenders there will gladly pour you a sample of any of the draft beers, plus, they have numerous whiskey, scotch, and bourbon bottles for you to pair with your brew.

4. Bar Jamon: For a fishbowl-sized glass of Spanish wine, this intimate wine bar in Flatiron is worth heading to. I love getting a glass of a rich tinto and a plate of charcuterie, though, if you ask for pairing suggestions their Argentinean sommelier is more than happy to assist.
There is a bar in New York City for every mood.

When you want an innovative cocktail in a comfortable place, check out the upstairs parlor in the Dead Rabbit Grocery and Grog. When in the East Village and a cocktail craving strikes, watch the impressive bartenders in Pouring Ribbons.

New York City does the wine bar well, with knowledgeable waiters and lots of small plates to accompany the vino. Local favorites include Terroir in Tribeca and Anfora in the West Village. These are cozy neighborhood places where you might be tempted to stay all night.

Manhattan is also still home to some excellent dive bars, such as Corner Bistro, one of the few places left where a satisfying beer and burger won't empty your wallet.