What are the best cocktails in New York City?
Answers from Our Experts (1)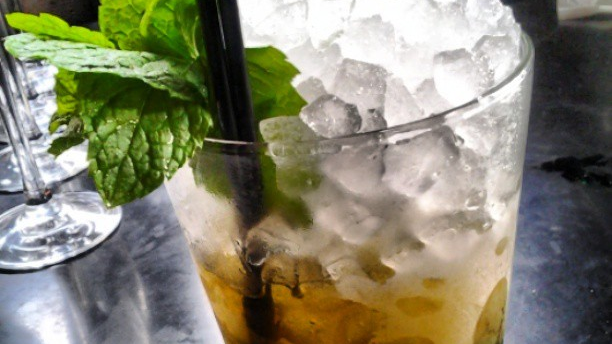 Given everyone's different tastes in drinks and the constant seasonal changes to menus, it's impossible to determine what the best cocktails are in the city. However, there are plenty of places to go that make superb drinks that anyone, no matter if they like sweet, bitter, strong, or bubbly can get behind.

Right now, the recently opened Greenwich Project has a stellar list of cocktails, including the refreshing BKLYN 76', a winning combination of gin, rosemary honey, house-made lavender bitters, and sparkling wine. On the darker side, they make a drink using clove-infused bourbon and a spicy syrup to create the Brick House, and equal deviance is found in the Mister Three Step, a beer cocktail made with Campari, bourbon, celery bitters and sweet vermouth.

For drinks that not only taste good, but are served with panache, head to Booker and Dax in the East Village. Here, the team chills their glasses with steaming liquid nitrogen, adds fizz to their Gin and Juice by carbonating the actual cocktail, age and bottle Manhattans, and incorporate a plethora of unique flavors into the drinks. Give the licorice-tinged, bubbly Chartruth a whirl, or take your tea in the form of booze with the Tee-Time, a beverage made with milk-clarified tea vodka and lemon.

On the strange spectrum, I recently had a pickle and gin cocktail at the Italian joint Sorella, and it was darn tasty. With that, you can also head to Do or Dine in Brooklyn and try the Spherical Back, consisting of a shot of George Dickle whiskey and a sphere of gelled pickle juice you pop in your mouth as a chaser. Don't question why, just try it.

At Dale Talde's restaurant Talde in Park Slope, they offer some great cocktails too that rift on classics. For example, the smoky BBQ Negroni, made with Brokers gin, smoked sweet vermouth, Campari, and burnt orange. I am also partial to the Nine Roses, a drink made with Four Roses bourbon and Chinese five-spice powder. Also in Brooklyn, Hawkers Bar just opened in Prospect Heights, and aside from traditional south-east Asian eats, they are mixing up some superb drinks. Try the No. 4, a concoction of smoky Sombra mezcal with lemon and pepper bitters, which you actually sip though a straw of lemongrass.

Heading back to Manhattan, in Tribeca the recently opened Distilled has been churning out craft cocktails worth checking out too, like the fresh-tasting Derby Shrub, made with mint, apricot shrub, and chamomile-infused rye. The Sparkle & Shine is also a good bet, especially for a hot day since it incorporates cherry moonshine, vanilla, rhubarb shrub, and sparkling wine.