What are the best food experiences in New York City?
Answers from Our Experts (3)
The best food experiences in New York don't just include fine-dining restaurants and whatever is trendy at the moment. Some of the best food experiences can be had for just a few bucks and are as synonymous with the city as yellow cabs and the Empire State Building. From bagels to thin-crust pizza, there are some foods that say New York like nothing else.

Many New Yorkers bemoan the demise of the bagel, which they say is supposed to be dense and chewy, not airy and fluffy. Nothing ignites more debate, but H+H Bagels is often cited as the best New York bagel, though detractors maintain they're too sweet. If you're looking for bagel sandwiches or cream cheese, you can forget it; H+H sells bagels and bagels only.

Pizza in New York must be thin and foldable, oozing with cheese and light on the sauce. The pizza cognoscenti all have their own opinions, but the most popular place for a slice is at a Ray's. You'll find them all around the city, each with a slightly different name, like "Ray's Original," "Ray's Famous Original," "Famous Ray's Pizza." None of them are actually related but they all offer the same New-York style pizza that, at least after a few drinks, appeals to slice hounds all over the city.

The black and white cookie, or a cakelike cookie with half-moons of chocolate and vanilla icing, is a New York staple. You can buy them in practically every deli or bakery in the city, but the people at Glaser's Bake Shop have been making them since 1902.

One of classic New York sandwiches consists of sliced pastrami served warm on rye bread. Some claim the best pastrami on rye sandwich is found at Katz's Deli. Others claim Second Avenue Deli is the best Jewish (and kosher) deli for pastrami, as well as brisket and matzo ball soup.

You can find knishes at delis all over the city, but for the real-deal Yiddish snack that consists of mashed potatoes, ground beef and other fillings covered in fried or baked dough, head to Zabar's, the famous Upper West Side market that's as New York as you can get.
For the best food experiences in New York City, the following restaurants cannot be missed:

1. Fresh Mediterranean seafood at Estiatorio Milos

2. Exquisite flavors at Eleven Madison Park

3. The best Middle Eastern/Lebanese cuisine with a hip scene at ilili

4. Soup dumplings to die for at Nan Xiang Xiao Long Bao (it is worth the trip to Flushing, Queens!)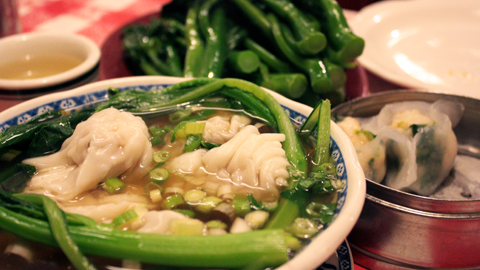 Honestly, New York City has so many great ways to enjoy food, you need to either live here or come back all the time to experience it. Let's start with Manhattan, not only are some of the best restaurants in the world located there, but you can try so many interesting flavors and cuisines side by side. A great way to do this is by eating as much classic grub like pizza, subs, and dumplings as possible. Of course, the best way to find out where to go is by taking a food tour, and if you don't want a self-guided one, try one of Levy's Unique New York's well-curated walks, like the sandwich tour of Hell's Kitchen and their customable, guided food crawls.

On a totally different spectrum, you should try and experience chef Daniel Humm's five star-rated restaurant, Eleven Madison Park. Here they serve a New York-themed, multi-course meal of epic proportions. Prepare to spend at least four hours there and, though it is pricy, think of it as an investment because it's a culinary adventure you won't likely forget.

To experience the best Italian food in a neighborhood that still channels old school New York, head to the Bronx and Arthur Avenue, an area with distinct shops to buy fresh mozzarella, house-cured salamis, fresh pasta, pastries, and hand-rolled cigars. You can take stuff to go, and/or dine out at one of the many eateries like Dominick's or Mario's.

In Brooklyn one of the best ways to eat is by hitting up the food-focused Smorgasburg that takes place in Williamsburg every Saturday until the end of November. Here you can sample foods from all over the borough, including chocolate-dipped frozen bananas, lobster rolls from the Red Hook Lobster Pound, the Milk Truck's gourmet grilled cheese, and some of the best pickles ever done by McClure's (try the spicy ones).

Finally, for an ethnic spread hitting China, Mexico, Thailand, and India, Queens has all you need for a unique experience. You can go to Jackson Heights and sample samosas, and curries on one side, and then cross the street to get tacos and cold Coronas on the other. Head all the way up on the number seven train for amazing and cheap Chinese, from tongue tingling lamb over hand-pulled noodles to piping hot scallion pancakes paired with sizzling pork dumplings, there is no way you can leave this area hungry. The best part is, it's like you are taking a vacation from the city, even if the city is your vacation. Then again, this sort of cultural crossover is what makes NYC not only an interesting place to visit, but also a tasty one