What are the most convenient beaches to New York City?
Answers from Our Experts (3)
Hitting the beach is the last thing most people think of when they think of New York City, but this metropolis actually has many convenient beaches nearby. One of the most popular is Jones Beach State Park, located on the south shore of Long Island and only 33 miles from Manhattan. This beach plays host to events like air shows every Memorial Day and fireworks on the Fourth of July as well as booking acts for their venue The Bay Stage. Get there by hopping a Long Island Railroad train from Penn Station, then connecting to the shuttle buses at the station. Montauk is famous for being located on the easternmost tip of Long Island's South Fork, and its beaches are certainly worth visiting. Gin Beach is more secluded and features a roped off swimming area, while Ditch Plains Beach is perhaps the most popular surfer beach in all of Long Island. Of course, there's Main Beach in East Hampton, where you'll find pristine, white sand, dunes in the distance and bird nesting areas. Though this beach is lovely, it'll take you about three hours by car from Manhattan until you can set up your lounge chair in arguably the East Coast's most glamorous beach resort area The Hamptons.
Long Beach, NY is an option for those who don't want to drive, don't want to get stuck in the traffic to Jones Beach and who would want to reduce the number of commute transfers should they want to take the train. Long Beach has an great boardwalk and is a small beach town community. You can walk to local pizza places, and mingle with the friendly locals. It's quiet and clean, and if you get there early enough in the day, it's just stunning.
A short walk from the LIRR's Long Beach Station. Those wishing to drive would find it easy to park earlier in the day. Hourly service is available from Penn Station, Brooklyn and Jamaica; with direct weekend service from Penn Station. Weekday service begins late June and continues through early September. The LIRR also offers discounted rail and beach admission passes. For more information on the wonderful discounts and great beach getaway destinations offered through the LIRR please visit their website.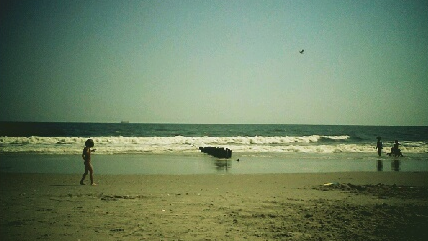 Despite the havoc Hurricane Sandy caused, the New York Parks Department rallied and got most of the state's beaches up and running, and, for the most part, they are all easy to get to. One of the most fun beaches to visit is Rockaway Beach, heck, the Ramones even wrote a song about it. While the boardwalk isn't as glorious as it was before the storm, and they are working on it, you still get to enjoy the sun, sand, and Rockaway Taco, a cult stand located a couple blocks away that serves some of the tastiest tacos around.

Another convenient beach to head is Jones Beach on Long Island. It's about an hour train ride from the city, and a short bus ride, but well worth the jaunt. There they have 6.5 miles of nice sand, a great boardwalk, and plenty of things to do besides swim and sun. Long Beach is also a good bet, and even easier to get there than Jones, you just take the Long Island Rail Road.

Now, if you really want a beach party experience, head to Montauk. It's about two hours on the train, but once there, it's like being in a different zone all together. On the weekends there are tons of things to do, from parties to beach bonfires to biking around the island.