What are the best bakeries in New York City?
Answers from Our Experts (3)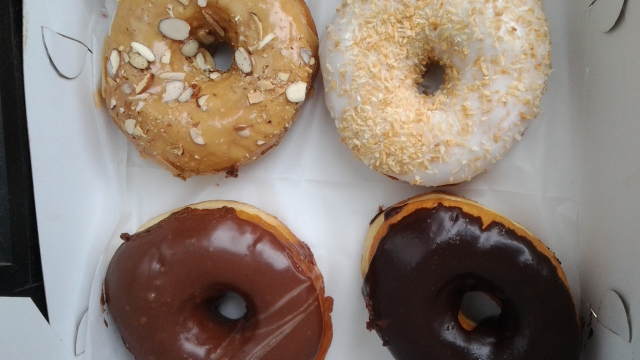 Dough doughnuts by Linnea Covington
Right now the hottest bakery has to be Dominique Ansel Bakery, in part due to the owner's famous cronuts. In case you haven't gotten hip to the trend, a cronut is a mix between a doughnut and a croissant, and the bakery only makes a few hundred each day. This means people start lining up to get their fix at about 6am, so, if you want join and try this treat, be my guest. However, the bakery offers a lot of other delicious French-style pastries that don't come with the hype, or with the line, so I usually choose that route.

On a totally different scale, another awesome bakery is Clementine, a tiny shop in Clinton Hill in Brooklyn. At first glance, it doesn't appear there is much going on, but once you realize all their baked goods are vegan, the feat they have accomplished is astounding. With biscuits that taste buttery and rich, delicate lavender-chocolate cupcakes to crave, and delightful Danishes—it's well worth the journey. Plus, if you go to this neck of the woods you can also grab some of the best doughnuts in the state at Dough, a decidedly not vegan bakery, but so good, it's become a destination spot. Here, they have fresh baked flavors including sea salt with chocolate and caramel, blood orange, cheesecake (a personal favorite), and dulce du leche.

If you want to stay in the city, try the rustic breads and to-die-for walnut chocolate chip cookies at Levain Bakery in the Upper West Side. They also sell uber flaky and buttery brioche, the ultimate sticky buns, and a fruit tart that will make you think you are visiting the countryside in France rather than NYC. If France isn't your things, try a little taste of Italy and head to Grandaisy Bakery, also on the Upper West Side, for soft ciabatta, Danish stuffed with fresh ricotta, and a handful of biscotti perfect for dunking in a cup of coffee. Each item is baked to perfection with that special New York state water that people swear by.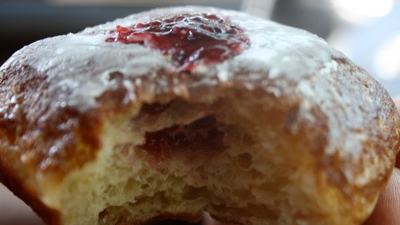 Nothing goes better with the best NYC coffee, than the best NYC bakery treat. The city is blessed with its share of masterful pastry chefs and bakers spread throughout the city so that you never have to go without a fresh, organic, loaf.

Amy's Bread whole grain, organic, as well as baked sweets and pastries. Can be found in various locations throughout the city.

Sullivan Street Bakery small shop with lots to offer. Breads are a must, but then so are the pastries which are are huge in flavor. Also a great place for bread making classes!

Milk and Cookies Bakery is where to go for a warm, fresh out of the over chocolate chip cookie with a tall glass of milk. But, it's hard to resist their other sweet creations, their latest being the "Bacon Smack" a cookie made from a mix of maple syrup, candied Neuskes cherry wood smoked bacon, dried cranberries, 72% dark chocolate chunks, toffee and graham cracker pieces. What more can I say?

Bouchon Bakery by Thomas Keller. The charming location in Rockefeller Center offers out door seating, perfect for people watching while enjoy a warm latte to go with any one of their fabulous pastry treats, including their delightful Macarons.
You will walk so much during your trip, you can eat the city's most decadent baked goods guilt-free. Here are some of the best bakeries in New York.

Francois Payard Bakery This renowned pastry chef has three outposts of his addictive bakery (Upper West Side, Soho, and Battery Park City) where almond croissants and lemon tarts are devoured by locals.

Pain D'Avignon This artisanal bakery has a tiny outpost in the Essex Market, located on the Lower East Side. Gather picnic supplies or indulge in pastries; everything here is bakery perfection.

Sullivan Street Bakery One of the bakeries responsible for launching a revolution in New York bread baking, Sullivan Street Bakery is an ideal spot for breakfast, lunch, or a sweet snack. Try the bomboloni, an Italian donut filled with cream or seasonal jam.