What are the best hotels in New York City?
Answers from Our Experts (11)
For a place nicknamed The City That Never Sleeps, New York City offers some of the best hotels in the world. If you seek the best of the best, check into one of Forbes Travel Guide's Five-Star hotels:

1. Trump International Hotel & Tower New York. You can't miss the iconic 52-story black-glass building that is Trump International Hotel & Tower New York, home to 167 luxurious guest rooms and suites. Rooms are done up as only Trump could do, complete with European-style kitchens with china, crystal glassware and Christofle serving trays; marble bathrooms; and floor-to-ceiling windows overlooking the park and city. World-class chef Jean-Georges Vongerichten has made Trump New York a foodie destination with his two eateries, Nougatine and Jean Georges, a Five-Star restaurant that ranks among the top in the city. After Jean Georges' seven-course tasting menus, hit the well-equipped gym (it stocks sneakers in case you forget yours at home) or do laps in the 55-foot heated indoor pool. The newly revamped Trump spa is an urban respite, offering everything from advanced skin care treatments by celebrity skin specialist Sonya Dakar, to a host of massage and body therapies and nail treatments. Above all else, Trump New York extends unmatched service — even compared to other Five-Star hotels. Need proof? Its complimentary house car service will take you anywhere in Manhattan, the concierge team speaks just about every language you can think of and even man's best friend is welcome to live it up in the New York City hotel.

2. The St. Regis New York. Opened back in 1904 by wealthy socialite John Jacob Astor IV, the Forbes Travel Guide Five-Star St. Regis New York has always been considered a luxury pioneer. With gilded cornices, Italian marble, glittering chandeliers and an impressive sky-like ceiling, old-school opulence has a serious presence throughout this Beaux Arts landmark New York hotel. Guest rooms and suites are decked out with silk wall coverings, antique furniture, Italian marble floors and deep-soaking tubs in the bathrooms (our pick is the gorgeous robin-egg-blue-colored Tiffany Suite from the famous jeweler). Grab a Red Snapper (Bloody Mary) and light bite in the legendary King Cole Bar or opt for a more formal dining experience in the elegant Astor Court. While the gym may not be the largest, it's open 24 hours, allowing you to squeeze in a workout any time you want. Also available 24-7: the signature butlers appointed on each floor to take care of your every request.

3. The Ritz-Carlton New York, Central Park. With 400-thread-count French sateen linens, feather duvets and a selection of seven pillow types, beds in The Ritz-Carlton New York, Central Park easily lull you to sleep. Get to dream land a little faster by stepping into the oversized marble bathroom for a pre-bedtime bath in the deep soaking tubs. After a long flight or too much indulgence in Star Lounge, detox with one of the jet-lag therapies or myriad other services at the La Prairie spa on the second floor. We suggest the Parkview rooms, which are outfitted with telescopes for bird (or people) watching. But for an up-close look at the city, venture outside of your room; do your sightseeing in style by taking one of the Five-Star hotel's on-call Bentleys or limos for a leisurely drive around Central Park.

4. The Peninsula New York. Located in Midtown Manhattan in the midst of the tony Fifth Avenue shopping district, The Peninsula New York blends Eastern traditions with the luxuries of a Forbes Travel Guide Five-Star hotel. Boasting some of the most spacious bathrooms in all of Manhattan, beautiful linens and bedside controls to regulate everything from the temperature to the television, the guest rooms and suites provide all the comforts of home and then some. In lieu of a kitchen, dine at Fives restaurant and have a cocktail at Salon de Ning, the trendy rooftop lounge that nods to 1930s Shanghai. Relax in the sauna or take a fitness class in the hotel gym, located within the Five-Star Peninsula Spa by ESPA. For a little motivation to get through your cardio workout, the sweeping floor-to-ceiling views of Fifth Avenue should help. Book an appointment for one (or more) of the indulgent spa services, including facials, wraps and a slew of massages that target specific problems. If you're visiting in the summer, don't miss The Peninsula New York's 22nd-floor pool and sun deck — a rarity among New York hotels.

5. Mandarin Oriental, New York. Thanks to its elevated location on floors 38 through 54 of the Time Warner Center, Mandarin Oriental, New York offers amazing views of Columbus Circle, Midtown Manhattan, the Hudson River and Central Park. On our last visit, we felt like VIPs when the staff greeted us at the front of the luxury hotel and escorted us up to the 35th-floor lobby. With features such as a high-tech entertainment system, separate living room areas and luxurious marble bathrooms with rain-style showers and heated toilet seats, you may never want to leave your room — especially if you book the 2,640-square-foot Presidential suite. While room service is always an option, there's also Asiate (one of our favorite spots for a business lunch), the Lobby Lounge and MObar when you're looking to wet your whistle into the wee hours of the night. Work off a little of the debauchery in the gym or take a dip in the 75-foot lap pool. Don't miss the Five-Star Spa at Mandarin Oriental, New York, where you can unwind with a variety of results-driven holistic services (massages, body treatments, facials, nail services) in a serene setting that feels miles away from the concrete jungle just outside.

6. Four Seasons Hotel New York. The tallest hotel in Manhattan, Four Seasons Hotel New York boasts some of the best views in the city. Take in to-die-for vistas of Central Park and the surrounding cityscape from the 500- to 800-square-foot guest rooms, which are roomier than your average New York City apartment. The rooms come with plush seating areas, spacious marble bathrooms with soaking tubs and — if you're lucky — a furnished terrace. Take a class or work out on your own in the sprawling 5,000-square-foot gym (open 24 hours) then reward yourself with one of the signature facial, body or nail services at the Four-Star Spa at Four Seasons New York. If you're looking to take in some of the local color, the hotel's convenient Midtown location is in proximity to the famous Fifth Avenue shopping district.

7. The Pierre, A Taj Hotel. When a hotel can offer both a great location and a dedication to luxury, you know you've found a real winner. Reopened in 2009 after a $100 million renovation to the guest rooms and public spaces, the Five-Star hotel celebrates its historic charm while providing all the necessary amenities for a modern stay. Rooms feel tranquil with permeating tones such as ivory and taupe, while views of Central Park remind you that you're just steps from some of the city's best attractions, including the shopping on Fifth Avenue. Look no further than the first floor Sirio Ristorante when it comes to enjoy a meal, which whips up tasty plates such as Mediterranean branzino or saffron risotto that are sure to satisfy even the most discerning foodie. If a wedding or over-the-top event is on your horizon, the luxury hotel's Grand Ballroom — with its hand-painted gold and silver ceiling — is truly a sight to be seen, too.

That often depends on the individual. I have a lot of friends who are more Midtown-ish people, so I suggest [Forbes Travel Guide Five-Star] Mandarin Oriental, New York or [Forbes Travel Guide Recommended] The Mark. It's not necessarily my thing in New York. I would recommend The Mercer. I like Bowery Hotel a lot. In both [The Mercer and Bowery Hotel], you don't necessarily feel that you are in a hotel. Also, I like the design concept of both of these hotels. But it really depends on the individual.
Anywhere that you can find an affordable place because it can just be outrageously high, especially in Midtown. If you can muster it up, stay in New Jersey. It can be a pain because you have to take a PATH train in; but I think you can find great value and you're right on the water. You have a great panoramic view of lower Manhattan or of the West Side. I know there are hotels that are starting to pop up because of all the business that's over in Jersey City now. In Manhattan, it's just where you can find a place to stay.
The Pierre, The Plaza, the Waldorf Astoria, The New York Palace and others that smack of Old World luxury. You could stay in Midtown at more trendy, cool options like Stay or ANdAZ 5th Avenue. Or move a little downtown and stay at The NoMad, the Ace Hotel or Gramercy Park Hotel. Or go all the way downtown and hang out at trendier places such as Mondrian SoHo, The Standard, Thompson LES, Hotel on Rivington, The Greenwich Hotel or if you want to hang out in Brooklyn, you can stay at NU Hotel. My choice, though, is Mondrian SoHo.
Gramercy Park Hotel is fantastic just because of the location. It's not too large of a hotel, but it's got everything you need. And I just love the feel of it. There's art, there's some whimsy, but it's very professional and the location just can't be beat.
The St. Regis. I just love the King Cole Bar. If you visit at the right time of year, because it can be overrun, it just has that magical New York feeling. I'm a romantic, what can I say?
We just did some work in my apartment so I stayed at the Mondrian on 9 Crosby Street. I was up in the top of that building. It's like 25 floors, and you're right in Soho so you see both rivers, you see all downtown and you see uptown. They have a really beautiful greenhouse bar and restaurant. It's on an old block that hasn't changed outside at all — it looks like it probably did 150, 200 years ago. And it's at the beginning of a one-way street so it's hard to get to, but it's really cool.
Downtown, The James hotel is great. The Soho Grand Hotel or Tribeca Grand Hotel are awesome hotels close by, and you can explore the downtown area pretty well from there. The Greenwich Hotel is also really nice in Tribeca — Robert De Niro owns that one. It's a really nice place — kind of on the expensive side, but you know you can get a really quiet time there.
Hands down, The Surrey. The Surrey is home to Café Boulud and was the site of the first iteration of Daniel. But more importantly, it underwent a thorough renovation recently. So what was a sleepy neighborhood holdout is now a sleek gem, but on an intimate scale. The hotel recently became a Relais & Châteaux member, a testament to its service and personalized charm. It's in the heart of a residential neighborhood, and a stay at The Surrey gives a sense of how New Yorkers live, albeit ones who are privileged to live on the Upper East Side.
I do love Four Seasons [Hotel New York]. It's always a go-to place for me. The service is impeccable, and service is a big thing for me. I think also, though, if you want to do something downtown, The Bryant Park Hotel — that's fun too. You know, it depends on your mood sometimes and what you're looking for. I'm more of a sharpshooter. I got married at The Plaza, and I hadn't been there in a while. You know, as a New Yorker, you don't go to these places. The work that they did to redo that place is just stunning. I think for old New York, it's fun to go there, if that's your style.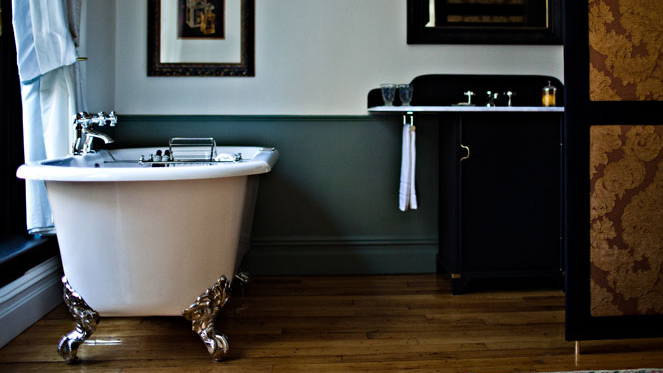 NoMad Hotel
After a busy day trotting around the dusty, hot streets, it's nice to tuck into a comfortable suite and kick back. Luckily, New York has plenty of high-class options all over the city from historic hotels, shiny and new establishments, and even an haute hideaway in Brooklyn. Want to know more? Check out these five amazing stays.

1. The St. Regis New York: As far as historical hotels go, the St. Regis is one of the best, and one of our Star Award winners. Here, you can sip their famous Bloody Marys at the King Cole Bar, have a fine dining experience at Astor Court, and then head to your room to rest in lavish comfort. The furnishing in each room is custom made, the sheets are Egyptian cotton, the pillows goose down, and the bathroom done in Italian marble. As if that wasn't enough, you also get to watch the world go by from floor-to-ceiling windows, and take advantage of a complimentary shoeshine and suit pressing; perfect for a businessman, or woman, visiting the city.

2. Wythe Hotel: This new boutique hotel in Williamsburg, Brooklyn is the first luxury accommodations in the area, and so far, they have got a great handle on it. Each room tips the hat to the industrial side of the neighborhood's past, while keeping the style clean and chic. The floors are heated, they offer complimentary wifi, and, in true Brooklyn style, the minibar features seasonal ingredients. You also get the added bonus of dining at the popular Raynard, where the changing menu features chef Sean Rembold's skill with game meat and local vegetables.

3. The NoMad Hotel: Inside the turn of the century Beaux-Arts building, French designer Jacques Garcia has outfitted this new Midtown hotel with European-style décor, masculine furniture, original artwork, and handmade, vintage Heriz rugs. Most of the rooms have freestanding, clawfoot bathtubs and tantalizing bath amenities by Côté Bastide, so bathing just got even more opulent. Once you leave your temporary palace, head to the dining room where each menu was created by award-winning chef Daniel Humm of Eleven Madison Park, and make sure to try his roasted chicken for two. It might be expensive, but in this town, it's the best bird around.

4. Mandarin Oriental: There are plenty of reasons why this grand hotel in the Upper West Side garners accolades, including our Star Award, but perhaps the best reason to stay here is because of the killer view, which, towering 54 stories up, looks over Central Park, the Hudson River, and beyond. Though the view brings guests, the service and amenities keeps them coming. They offer a luxurious spa, sleek and modern rooms, lush bathrooms, and friendly, professional guest service.

5. The Crosby Street Hotel: Each room and suite of this boutique hotel mirrors the artistic bent guests can see in the lobby. One room features a black and white modish approach, and another one has a personal terrace garden that pairs well with the textile foliage inside. Choose from single bedrooms to multi-room suites. Either way, you can take advantage of the gym, guest lounge, DVD library, their sculpture garden, and the close proximity you have to SoHo, the Lower East Side, and the East Village. Make sure to take high tea in the bar, the last time I was there I saw Meg Ryan with her pinky in the air.