What are the best kids activities in New York City?
Answers from Our Experts (2)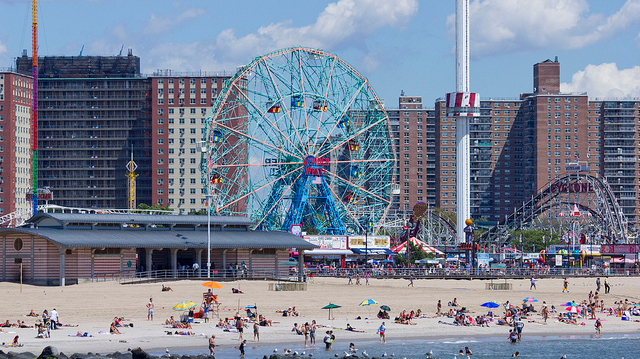 While New York City may appear to be an adult playground, and it is, there are plenty of kid-friendly events and activities to do from educational to culinary to just plain fun—especially during the summer and fall months.

For pure pleasure, Coney Island is the place to bring any excitement-loving kid. Despite the damage done by Hurricane Sandy this past winter, Luna Park is up and running with rides, games, a sprawling beach behind the amusement park, and, for lunch, the world famous Nathan's Hot Dogs. After all, what kid doesn't love French fries and hot dogs?

For a more wholesome adventure, both the Brooklyn and New York Botanical Gardens offer a complete experience for kids, whether they want to learn about plants or just frolic in nature. At the Brooklyn Botanical Gardens, head to the 99-year-old Children's Garden, which features a plot of land intended for kids to grow their own crops, plus a wooded area for them to run around in and explore. At the New York Botanical Gardens, aside from 250-acres of natural joy, they also have a young adult section, the Everett Children's Adventure Garden that showcases giant molds of plants, a boulder maze, and a water plant touch tank.

Another great place for entertaining kids outdoors is at Hudson River Park. All summer long, children flock here to play mini golf, baseball, or to hang out at the many water parks and playgrounds located at various piers. The science-themed Pier 84 spot is popular for parents eager to get a little bit of education with playtime, and, at Pier 62, they have a magnificent carousal. Along the park there is also plenty to do for older kids, including kayaking, swimming, and rock climbing.

On food note, entertain your tot by signing him or her up for a kids cooking class. At Chef Toni's Cooking Academy, they offer course for all ages and you can go for the day, come on the weekend for a cooking party, or even send your tween off to social network while learning about food. Best part is, they might even learn something useful while you get an afternoon off.
Summerstage, GirlGoneTravel.com
Exploring the city with kids in tow can be a fun learning experience for both the adults and the children, and with so much going on for kids, you need not step foot in a playground the entire time if you don't want to.
Here are some fun activities to do with kids in tow while in NYC

Museum Kids Programs: Almost all your favorite city museums, from The Met, to the MoMA, to El Museum del Barrio, offer family activities, often times during the weekend and for members, before the museum is even open to the general public. Some events are free of charge, while others require a small fee. Check out your favorite museum and see what they have going on for families. No better way to take in the art scene than together.

Summerstage in Central Park: is a great way to take your older child or teen and enjoy some of your favorite bands. If you are willing to get up super early and stand on a line for entry, then you can get into see some of the hottest bands and performers. Nothing says "bonding" more than rocking out to the tunes of Green Day or The Black Eye Peas with your teen – all free of charge.

Victorian Gardens at Wollman Rink in Central Park is a a way to take in the fair without having to leave the city. From rides to entertainment, even event space for birthday parties, you can do it all.