What are the best neighborhood restaurants in New York City?
Answers from Our Experts (3)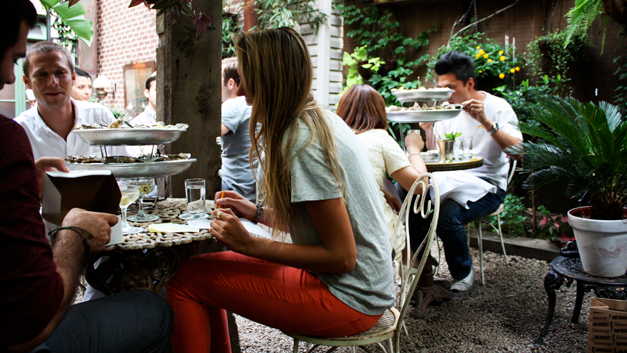 If you like an assortment of cuisines, one of the best neighborhoods to eat in is Williamsburg in Brooklyn. Here, you have an array of foods from all over the world. From American bistro, Venezuelan, Thai, French, and more, it's the place to be to get just about anything. Here are my five favorite places to eat there, and most of them lean towards the inexpensive side.

1. St. Anselm: At this steak joint, you can get a superb piece of butcher's steak for under $20. Pair that with their pan-fried potatoes with truffle oil and grilled cauliflower, a glass of wine or one of the many craft beers they have on tap, and you have a perfect carnivore-centric meal. Also, if there is a wait, and often there is one, you can dip into Spuyten Duyvil, their sister bar next door and sample even more craft and rare beers both on draft and in the bottle.

2. Tarbaré: I recently stopped into this three-year-old Uruguayan restaurant and was wowed by their innovative rustic décor. On bite of the fresh tuna empanada and the farmer's cheese and potato gnocchi by chef Ella Schmidt, and they had sealed a place in my heart. They also have a list of South American wines and cocktails made with mate-infused vodka, and about 10 other reasons to go.

3. Maison Premiere: For a Francophile, this New Orleans-style restaurant and absinthe bar is a necessary destination. They have an extensive list of oysters, and Monday through Friday from 4 to 7pm they only cost $1 apiece. Aside from those bivalves, the chef prepares delicate dishes of fish and seafood including turbot with chanterelles, and sea scallops with foie gras mousse. In the summer, their backyard turns into a lush garden full of cozy iron tables perfect for stealing secret kisses in.

4. Brooklyn Star: While this American food joint isn't on the main Williamsburg strip, it's worth a slight trek just to try their fried Brussels sprouts with duck confit and burnt onion chow chow, or the perfect buttermilk biscuits. The space is large and good for groups, and of all the times I have eaten there, it's never disappointed.

5. Caracas: Also specializing in South American food, this Venezuelan restaurant offers guests some of the tastiest arapas I have had this side of equator. The best thing to do is order a michelada to chase it down; they are made with sugarcane, hot sauce, and lime juice, and end up being a sweet and spicy affair that goes brilliantly with the food. It's fun, casual, and great for a first date or group outing.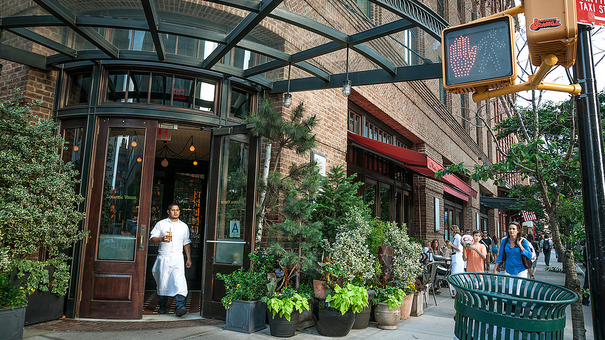 Locanda Verde
Many neighborhoods have an iconic restaurant that in some small way defines the local character.

In TriBeCa, that restaurant is Locanda Verde. Located on gorgeous Greenwich Street and an extension of the Greenwich Hotel, this Andrew Carmellini restaurant – also of the Dutch and the new Lafayette – is a bustling, comfortable space serving up wonderful handmade pastas, among other Italian-inspired fare.

In SoHo, Balthazar takes the prize as everyone's favorite local restaurant. It is as ideal for a morning croissant and café au lait as for happy hour oysters as for a late night steak frites. Everything from the uniformed waiters to the music brings a touch of elegance to your meal. Balthazar is a neighborhood staple.

In the West Village, it's the Spotted Pig. This corner gastropub is always packed, nodding not only to the quality of the food – a killer burger and addictive Devils on Horseback – but also to the ambiance and people watching. At the bar or packed into a tiny table upstairs – I'll take any seat I can get in this neighborhood favorite.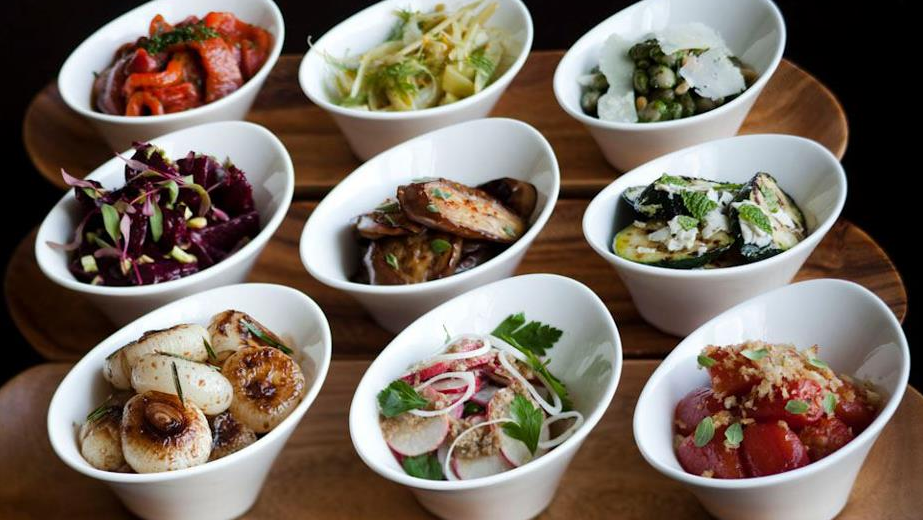 A Voce Italian Restaurant
Ah, how to decide what neighborhood has the best eatery, and worst still, how to make that a short list you can carry in your pocket?

Well, friends, I will try, simply by relying on the most memorable, even if that means leaving out some pretty great ones:

1.Balthazar in SOHO is what makes that area so great for me. It is literally a trip to Paris on a dish. Perfection.

2.Momofuko Noodle Bar in East Village. Let's just say, the cool kids get all the cool stuff, and this is one of them. Hard to get in to, but if you don't mind eating before lunch or even before normal people have dinner, you could be enjoying a warm bowl of ramen without standing in line.

3.Red Rooster in Harlem. Chef Marcus Samuelson brings his soulful dishes to the heart of soul food in NYC, but gives with such flavor and flare that it makes even the Downtown loyalist venture beyond what they know to get there.

4.ABC Kitchen in the Flatiron District is the perfect excuse to stop in after shopping at the adjacent ABC Carpet and enjoy one of their cocktails and any one of the savory, locally sourced, organic dishes.

5.A Voce in Midtown, Columbus Circle serves exquisite Italian, with a level of simple sophistication and abundant flavors.