What are the best parks in New York City?
Answers from Our Experts (3)
New York City's urban parks play a very important role as the yin to the Big Apple's notoriously busy yang. I always like to take a bit of time to explore new parks when I visit the city. Here are my three favorite places to unwind with a nice stroll in Manhattan:

Central Park. No matter how many times you visit this world-famous park, there's always something new to discover in the city's most famous greenspace. A stroll through the park's many trails is a simple and lovely way to pass an afternoon. If you have kids in tow, head to the Central Park Zoo to see the latest exhibits or book a horse-drawn carriage tour to whisk you and your little princess (or prince) through the city's most majestic courtyard.

The High Line. If you find yourself in Manhattan's West Side, look up — you'll find this unique park elevated above the streets on a historic freight rail line. While you can't enjoy all the activities permitted at Central Park (like biking, skating or playing catch with Fido, as no dogs are allowed), this park should be on your must-visit list. Where else in Manhattan can you walk alongside skyscrapers and manicured gardens at the same time?

Morningside Park. Situated just past Columbia University in Manhattan's Harlem and Morningside Heights neighborhoods, this lovely park is a gathering spot for students and families who live nearby. Visit during a spring or summer weekend, and you're sure to find children's sports leagues holding games on the baseball and basketball grounds. There's a beautiful cascading waterfall just across from the baseball diamonds, perfect for relaxing with a slice of famous New York-style pizza from a nearby restaurant and someone special.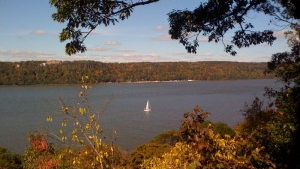 Fort Tryon Park, Carol Cain of GirlGoneTravel.com
When thinking of parks in NYC, Central Park is always the first to come to mind. People wouldn't suspect that our concrete haven has even more to offer in green escapes.

1.Governors Island is reached trip via a free ferry ride only a few minutes off the Manhattan shore will take you to Governors Island (a must see in NYC) between May and September, where free entertainment can be found as well as plenty of space for lounging and picnics. Get there early and you might even score a hammock to lounge in while you enjoy the serene environment and the breeze off the East River. A small fee for a bike rental will allow you to take in the amazing views around the small island, a unique NYC experience.

2.Wave Hill in the Riverdale (Bronx) neighborhood, just past the borders of Manhattan, is a former private estate that is now a garden and cultural center open to the public. With 28-acres of beautiful landscaped gardens, overlooking the Hudson River and Palisades, one feels as if they have left New York City entirely and gone somewhere far more serene.

3.Fort Tryon Park in the neighborhood of Washington Heights, was built on over 66 acres of land donated by John D. Rockefeller. The many winding paths inside the park and along the Hudson River offer a wonderful reprieve from the city's hustle and bustle. Heather's Garden is a beautiful botanical display. The park is also home to the Cloisters Museum.

4.High line Park, in the Chelsea of Manhattan, was formerly a freight train line originally established in the 1930s. After a threat of its demise by city plans, the Friends of The High Line was established. The group was successful in raising funds and support, helping to secure its protection and establishment under the jurisdiction of the New York City Department of Parks and Recreation. It a little over a mile in length, with continued expansion in the works, and is adjacent to another fun NYC destination, the Chelsea Market.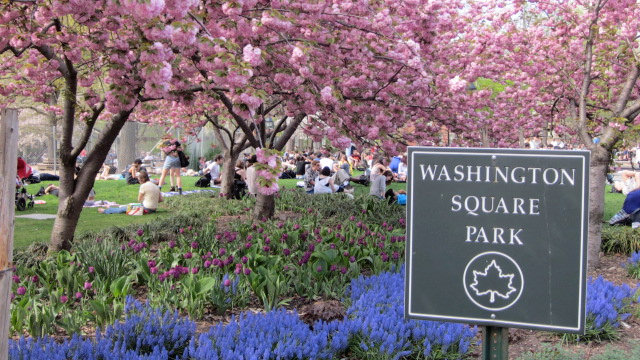 Jessica Colley
Central Park is just the beginning of the sprawling, striking green spaces in New York City.

Few parks have the electricity of Washington Square Park, in the heart of Greenwich Village and NYU territory. Beneath its famous arch, you might witness a swing dance performance or impromptu piano concert. In the warm months, it is an ideal spot for a picnic, and if you have kids, they might want to jump into the fountain for a quick splash.

For a quieter experience, check out Hudson River Park, on the banks of the river along the west side. This is one of Manhattan's newer parks and has been in development for years. The result is an expanse of manicured lawns and paths that are perfect for biking, walking, and picnics. Different areas are also home to summer concerts and outdoor yoga classes.