What are the best places to get a hair blowout in New York City?
Answers from Our Experts (1)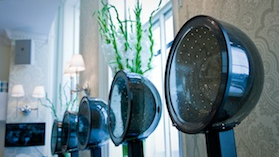 Miss Jessie's Curl Bar
Finding the best blow outs in NYC can take you as far uptown as Washington Heights or as far down as Chinatown, and they may sometimes include more of a cultural experience than you bargained for. In an effort to keep it as mainstream and as accessible as possible, I will list the three favorites that have made even my salon visits a spa-like experience.

Dry Bar is high on my list for its willingness to indulge with champagne and cookie treats, in an atmosphere that is both soft, warm, and comfortable. Perfect for a girlfriend beauty date or mother and me time. I love all the girly this place is, the flexible hours, and the high potential for celebrity spotting. Fekkai Blow Out Bar at Henri Bendel is an experience you will want to pocket and take home with you. Known not only for their friendly staff and wonderful customer service, but also for their haircuts and styling.

As a curly-haired girl, I would be remiss if I didn't mention Miss Jessie's Curl Bar. Catering more to the curly-haired ladies out there, it offers incredible services and treatments to keep those curls soft, healthy, and looking fabulous. They do offer straightening options as well, but for those days when you want to go with the real you, this is the place to be!