What are the newest shows in New York City?
Answers from Our Experts (1)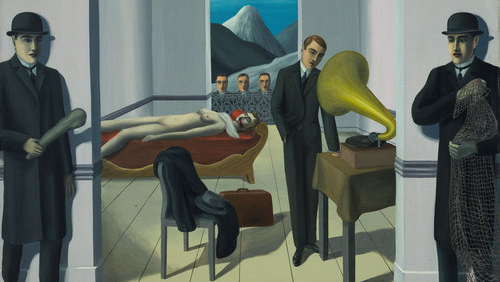 Magritte at the MoMa
This August you can look forward to the American Modern: Hopper to O'Keeffe show at the Museum of Modern Art (MoMa) featuring their collection of pieces made by American artists from 1915 to 1950. The museum also will debut new photography from eight international artists starting September 14, and an exhibit featuring the work of surrealist painter Rene Magritte from 1926 to 1938, which starts September 28.

Also coming to the modern art world September 24 is the Body & Soul show at the Museum of Art and Design (MAD), which showcases bodies done by ceramic artists from around the world. At the Whitney Museum of American Art, starting September 19, guests can enjoy a panoramic film installation by New York-based artist T. J. Wilcox, as well as Robert Indiana's pop art show, Beyond Love, beginning September 26.

If you head to the Museum of the City of New York September 13 through January 5, you can see Janet Ruttneberg's paintings of Central Park, and starting November 13, they will highlight costumes, jewelry, portraits, and other objects from New York's Gilded Age. For those who want even more unique clothing, the Brooklyn Museum will bring Jean Paul Gaultier's work starting October 25, and on October 11, they will also include the show Wangechi Mutu: A Fantastic Journey, the first survey ever of this Brooklyn-based artist.

On the theater end, you can get ready to check out the stage version of the fantastical Big Fish, a novel and book, that is coming September 5 at the Neil Simon Theatre. For something more serious, The Snow Geese debuts on October 1 at the Samuel J. Friedman Theater, and stars Mary-Louise Parker. On October 1 the Ethel Barrymore Theatre gets an all-star cast for the production of Betrayal, which features Daniel Craig and Rachel Weisz, and Billy Crystal takes the stage at the Imperial Theatre on November 5 with the show 700 Sundays.

For some classics, take a gander at Orlando Bloom in a rendition of Romeo and Juliet at the Richard Rodgers Theatre, previews start August 24. For more Shakespeare, the Belasco Theater opens up on October 15 with the Twelfth Night and Richard III, staring two-time Tony Award winner Mark Rylance. But wait, as if that wasn't enough of the bard, on October 24 Ethan Hawke and Anne-Marie Duff star in Macbeth at the Vivian Beaumont Theater.